Rim to Rim — Page 2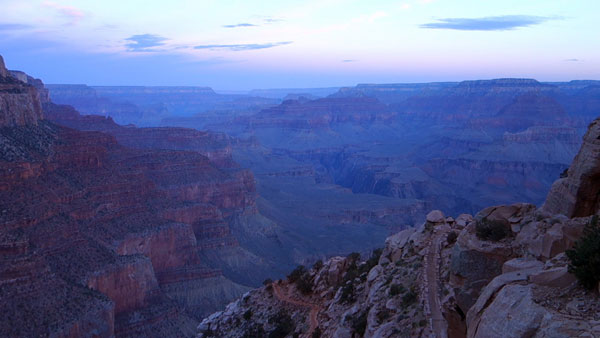 Yaki Point at Dawn
At six a.m. the Grand Canyon is a giant blue cauldron of mists and shadows. I hop out of the car at the Yaki Point parking lot and go straight to the edge, looking out and then down.
Every time I see this plunging chasm in person, the sight of it always seems to freeze me in place, mesmerize me. I am looking at something, my brain tells me, that can't possibly be real. And yet it is. And so I stare at it, boggle at it, shake my head and blink my eyes. And there it remains.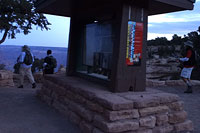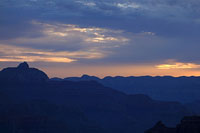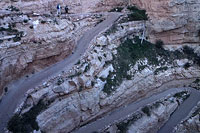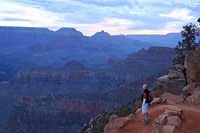 At the car nearby, the other hikers in our group are getting ready to go. I'd better do the same. I snap a few quick photos, then shoot a sweeping video panorama of the pre-dawn Canyon, and then I'm chasing our group as they march toward the South Kaibab trailhead.
Today's hike has been orchestrated not by my brother but by his neighbor Bruce, who is no young buck but rather in his 60's. For Bruce, this hike—Rim to Rim!—has become something of an annual tradition. Brother Yuri and I are lucky tag-a-longs today, first-timers each of us.
Two more neighbors, Dave and Dan, round out our team. I'm hoping someone in the group will prove slower than me (a hope that will quickly be quashed), as my plan is to shoot video of as much of today's hike as possible, all the way from south rim to north.
And so I dutifully shoot the start of the hike as our group passes the South Kaibab trailhead, and then I'm already falling behind as they speed down the first section of the South Kaibab's switchbacks.
I realize my video mission is going to make this a real chase today. I'll be starting and stopping nearly continuously, maybe even doing some running to keep up.
No matter. As long as I make it out before dark—and more importantly make it on-time to dinner at Grand Canyon Lodge at 6 p.m., all will be well. On the subject of pace, I want to make sure I stay within range of our group, obviously, but I also want to make sure I don't start off too quickly. Going down, the South Kaibab is steep right away, and therefore fast.
It's easy to race down right out of the gate here, as there's no apparent effort involved, just the steady pull of gravity. And the Canyon itself offers a huge incentive to move fast—every turn brings fresh new views and wonders. But that constant pounding on the downhill does take a toll on the muscles and feet, and we're got a lot of ground to cover today.