Rim to Rim — Page 6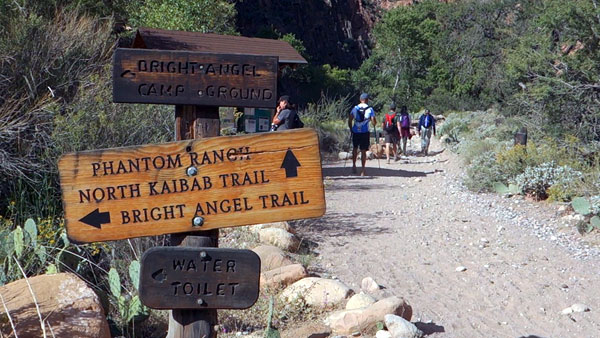 Phantom Ranch
It is 9:31 a.m. when I reach the general store at Phantom Ranch, Arizona, bottom of the Grand Canyon and not-nearly-halfway-point of our rim to rim journey today.
All things considered I'm pleased with my pace thus far, though the rest of my group are already rested and recovered and ready to go. I need a solid fifteen minutes to eat lunch and refresh myself, so after a quick reunion I head into the store to buy a lemonade and eat lunch.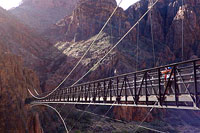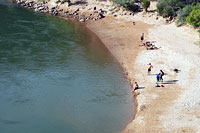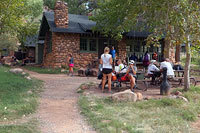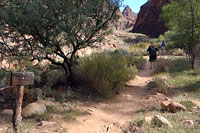 Hiking a vertical mile downhill has an insidious effect on the legs and feet, slowly but inexorably breaking down muscle. You know that quivery feeling you get when you've done a set of squats and pushed a little bit too hard? That's how my legs feel right now.
For me, this anxious-exhausted feeling is a familiar one.
As much as Phantom Ranch is a serene and beautiful Shangri-La hidden in the bottom of the canyon, it is also a place where very-nearly-spent hikers must confront the alarming reality that they are now a long, long way down and must climb their way out.
My brother joins me inside, and finally I discover the reason why we've all been on such a quick pace—it's over fourteen miles to the north rim from here!
Well, that's auspicious news. I confess to this point I'd just naturally assumed the North Kaibab was roughly the same distance as the South Kaibab from rim to river, some seven miles. Hearing we've got double that to go does pull the wind out of my sails a bit.
So. What I'd love to do is spend the night, either here at the Phantom bunk house or nearby at the Bright Angel Campground, with the added perk of eating a hearty cooked dinner and then breakfast here at the general store/dining hall.
Breakfast, dinner, and overnight lodging, ranch house or campground, all require reservations, however, and the wait lists are lengthy—say a year or so. And the purists will no doubt argue the proper way to do a rim-to-rim hike is in one day, regardless. Either way, my fantasy of spending a day here at this oasis is exactly that. The reality is it's time to start climbing.
I fill my water bottles and ready myself to get back on the trail. Bruce leads the gang ahead, starting up the North Kaibab, 14 miles and six thousand vertical feet to go—yes, the north rim is a full thousand feet higher than the south rim. And if I'm a little bit concerned about that I'm also excited. As I step on the lower North Kaibab trail, I am steeping on brand new ground, a path I've never before traveled. I'm ready to go.