Rim to Rim — Page 8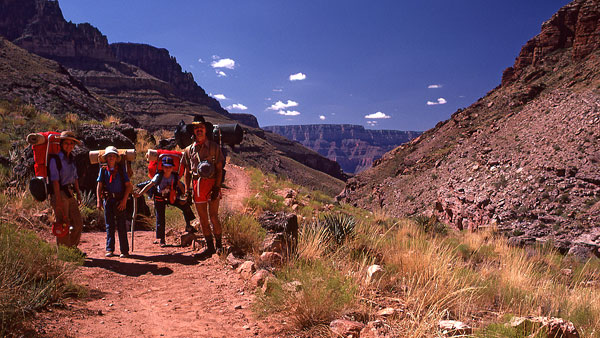 Yesterday
September 1978. My parents decide to do a three-day hike from the north rim to Cottonwood Camp, deep in the Grand Canyon, with their two young children—my brother and me.
Our packs, my dad recalls, were bigger than we were. From behind, he says, all you could see was a giant backpack with two legs sticking out. Our kid packs might have been big, but my parents' packs, filled with 70's-era backpacking gear, must have been crushingly heavy.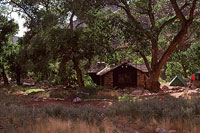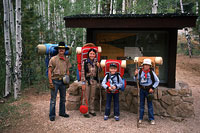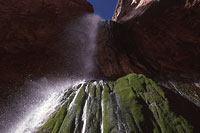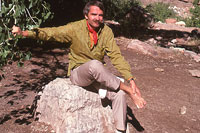 My Dad took a shot of us at the start of the hike, at the North Kaibab Trailhead, looking clean and fresh and ready for adventure. Our uncle, who joined us on the hike, is there also.
In every shot after that, my parents look increasingly exhausted (my brother and I remain fairly peppy throughout). And, indeed, on the hike out, my brother and I hiked far ahead of them and emerged from the canyon first.
My Dad admits it was not their intention to let their kids hike unaccompanied up the steep and often cliff-bound North Kaibab trail. No, they just couldn't keep up with us.
Weight must have been on their minds when they decided not to take a tent. It was September, also, and there would have been every reason to feel confident that the chance of rain was negligible.
But, on day one, as we descended deeper and deeper into the canyon, the sky grew darker and darker. It was completely overcast that first night when we arrived at Cottonwood Camp, the skies full of approaching thunderstorms.
My dad had brought a tarp to sleep on. As the rain began to fall, I remember trying to rig that tarp as a shelter between two trees over a sandy ravine where we planned to camp.
That ravine, it turned out, was actually a wash, and soon it was in flood, sending us scrambling to salvage gear and find high ground. As for the storm, it was no quick squall. Rather, it was a ferocious all-nighter that pounded the canyon with heavy rain. Rangers at Cottonwood Camp were kind enough to open up their bunkhouse that night for shocked and soaked backpackers.
My brother, mother, and I spent the night sharing a cot in the bunkhouse, along with a rowdy group of adults who'd apparently come to the canyon to party. My dad and my uncle spent the night on the floor of the men's restroom, nearby. The following dawn and indeed the rest of the trip was sparkling and clear, but the damage had been done.
Though we had fun exploring Cottonwood Camp and nearby Ribbon Falls, though in my memories the trip was a resounding success, my parents would never again do an overnight hike with their sons in the Canyon. And it would be far too many years before my brother and I would return as well.