Rim to Rim — Page 9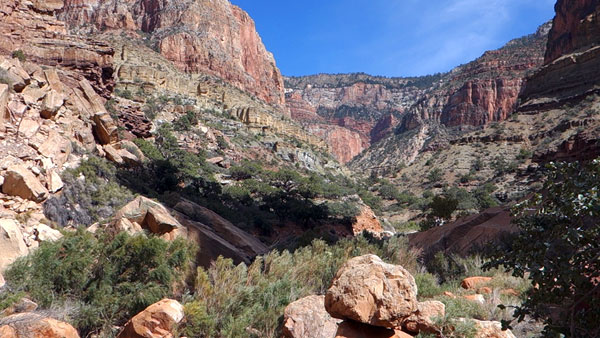 PUMPHOUSE
After a short rendezvous and rest at Cottonwood Camp, our group is back on the trail again, continuing upward toward the Kaibab Trail's Pumphouse Residence, elevation 4600 feet.
In contrast to the long, shallow climb along lower Bright Angel Creek, the trail past Cottonwood soon becomes steeper. Here, we will do the bulk of the climbing necessary to gain the North Rim, which remains thousands of vertical feet above. Here, also, Grand Canyon changes character yet again.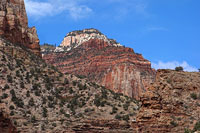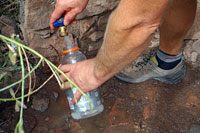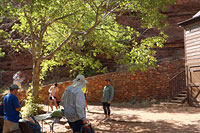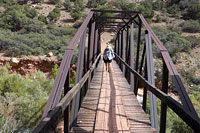 At these mid-elevations, the canyon's north aspects are much greener than the desert landscapes we've long since passed along the South Kaibab. Scrub brush and juniper begin to appear. With dark red and orange-hued buttes towering above, the land looks to me a lot like Sedona.
My thoughts remain on that long-ago hike into the canyon with my parents. The last time my feet touched this ground, I was, what, eleven years old?
That trip, though perhaps not quite the experience my parents were hoping for, sticks in my mind to this day as one of the bedrock foundations of my brother's and my love for hiking and the outdoors.
So I'd say it was a huge success!
On the trail, meanwhile, I feel like I've settled into a slow but steady pace. My legs are tired but holding together; my feet are about the same.
Bright Angel Creek seems bigger here. Maybe it's just that it's flowing faster over steeper ground. The North Kaibab continues upward, shadowing the creek, steadily gaining elevation, and soon I've traversed the mile and a half between Cottonwood Camp and the Pumphouse Residence.
As part of the corridor trail project, the National Park Service built an impressive network of pipelines to deliver water (seasonally) to stations spaced along the North Kaibab and Bright Angel trails. These stations might sound like overkill, but in fact they're what make hikes like today's possible, even in mild weather.
Sourced from Roaring Springs ahead, pipelines deliver water across the entire breadth of the canyon. Thanks to the water stations, I need only carry about two liters of water at any given time today, making for a far easier and safer hike. In other, more remote parts of the canyon, hikers must often stash large caches of water in key locations to be sure they've got enough to get out.
As for Pumphouse, it is both a pumping relay station and a watering hole. Artist and park employee Bruce Aiken lived here for decades, overseeing the pipes and pumps. When he wasn't manning the machinery, Aiken made good use of his downtime, trying to capture the Canyon's ever-changing grandeur on canvas—an obsession I can readily understand.