Walter Powell Route — Page 10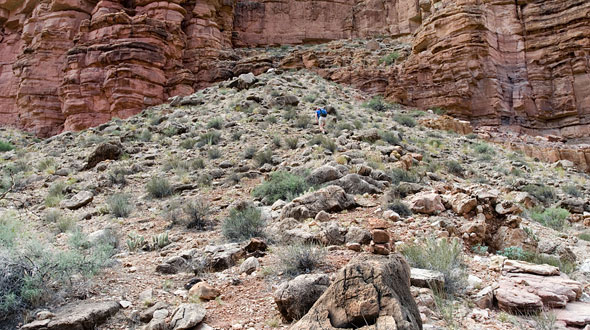 Climbing Out
It takes almost an exactly an hour for me to return to where my brother has been waiting in the shade beside the Little Colorado River.
I somewhat sheepishly admit that the walk to the Colorado took longer than I expected. He somewhat sheepishly admits he's run out of water. What? This is alarming news. Apparently my brother's camelback wasn't nearly as full as he thought it was.
In the mountains, this is normally the time when the bulk of the physical work—going uphill—is done for the day.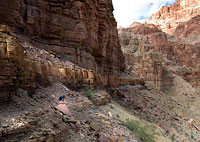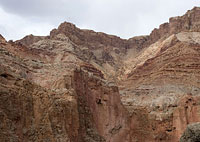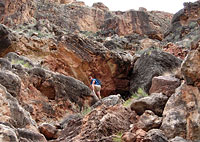 But instead of slogging downhill to get home, we've got to climb 3400 vertical feet to get to the rim—and we'll have to do it on my two liters of water.
Less than ideal, to say the least.
Well, keep the pace slow and steady, I reason, and two liters should be barely enough.
My brother starts up the talus slope above the river. I follow.
I'm not exactly a stranger to hiking in the Canyon. Even so, those first few steps up the steep Bright Angel Shale over the Little Colorado are eye-opening.
My legs are tired. My pulse is soaring. I'm hot, soaked in sweat and my own salt. This is going to be a tough one.
My brother says he's tired as well. As usual, however, he sets a blazing pace upward.
We work our way toward the Redwall, then make the long traverse into the Amphitheater, following a few strategically placed cairns to stay on-route.
Thankfully, clouds build overhead, keeping the worst of the sun off our necks. Once we round the edge of the Redwall Amphitheater, we are treated to a view of the entire route ahead.
I stop, hit with a sudden sense of hopelessness as I tilt my neck upward. How did 3400 vertical feet manage to grow so big? Even my supercharged brother seems taken aback. How are you feeling, he asks? He's getting a fluttering in his quad muscles—the first twinge of cramps.
I'm not cramping (yet!), but I've got a headache, and our water is already running low. The terrain is absolutely punishing, and I'm feeling it with each step. We push up through the Redwall, then scramble about on the steep traverse above.
Here, loose ground and relentless boulders force a pitifully slow yet exhausting pace. In summer's heat, this section would be positively deadly. Now, even in late Fall, with the sun behind a welcome layer of clouds, it's still uncomfortably warm.
I'm trying to convince myself that there really isn't that much farther to go—a mere 2200 vertical feet, actually. But the numbers just don't tell the story. Crawling over these boulders, poked by cactus and brush, slipping on the loose ground, traversing these steep drainage walls, early-stage dehydration, salt imbalance, heat: it's starting to add up.