Walter Powell Route — Page 11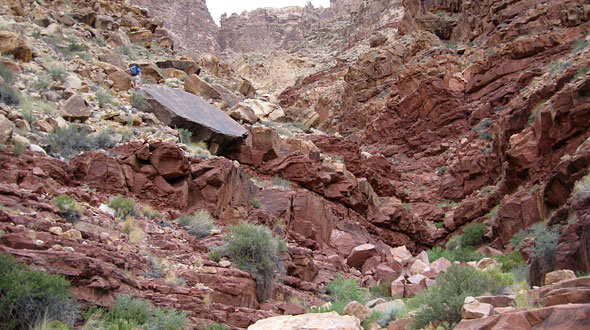 Gut Check
Just below the start of the Esplanade, I call for a rest. My brother and I plop down on a flat boulder and take stock of our situation.
I certainly don't feel chipper, but I'm hanging in there, fighting off a headache and a touch of nausea. Unfortunately, my brother's legs have continued to worsen. He's battling cramps with every step now, and his anxiety level is rising.
I know I'm going to make it out, and given my brother's formidable canyon hiking experience, I have full confidence he'll make it out, also.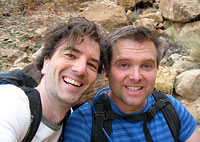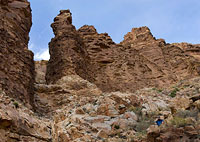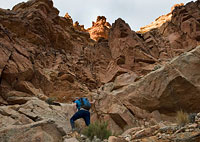 Then again, the rim still towers above us, and I'm not the one with leg cramps.
I take a few Advil for my headache and hand over the rest of my water.
After all, what are older brothers for?
I encourage my brother to slow down, take his time.
We've got lights if we need them. We'll make it out.
Onward we go.
And wouldn't you know it—now my legs are threatening to cramp.
This is undoubtedly the consequence of my speedy jaunt to the Colorado plus salt and water loss. Unlike my brother's quads, however, it is my flexor muscles that are threatening to seize.
That makes it tricky for me to lift up my legs—say for climbing—but it's easy enough for me to change the angle of my feet while walking and shift toward other, more solid muscles.
In this manner, I keep the cramps at bay.
My poor brother, though, is really getting hit hard. He stops every few feet or so, trying to stretch out his legs, grimacing.
He knows if his legs go all the way, we'll be spending the night out here. It's gut check time. But we are making progress. Cramps or not, my brother's pace is still on the speedy side, at least as far as I'm concerned. I'm playing rousing anthems in my head, envisioning an ice-cold soda in the cooler at the truck, doing what I can to motivate myself.
And so, layer by layer, we continue to work our way upward. When we finally reach the traverse-in to the gully that leads the final few hundred vertical feet to the rim, I wonder how my brother will do through this section of climbing. And how will my own legs fare? It's a real struggle to lift my legs, guaranteeing trouble on the many mantle moves that lie ahead in the gully.
Being so close to the rim, however, seems to give both of us a shot of energy. We scale the steps one by one, careful to avoid overtaxing the legs. The sun breaks free of the clouds to the west, lighting the top of the rim just above us. In no time at all, we'll be basking in its glow.