Walter Powell Route — Page 12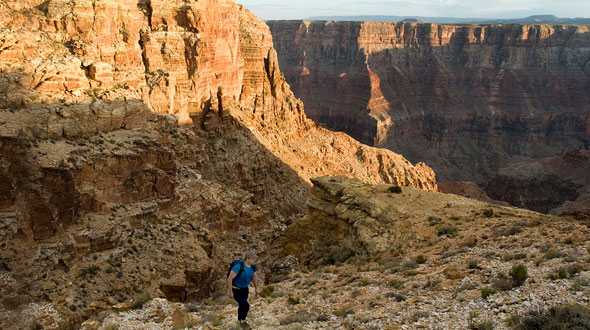 Songs of the Grand Canyon
Those last few steps to the rim sure feel good. And just like that, the hot vertical realm of the canyon gives way to a gentle green plateau and cool breezes.
We've made it out. The time is 5:30 p.m., just under nine hours since we began hiking (Kelsey claims he made the round trip in less than seven. Bastard). Both my brother and I are relieved to see the truck is still parked in the distance with all four tires full of air.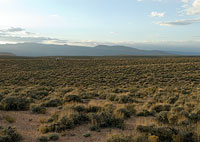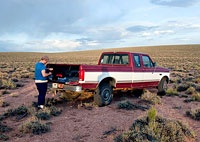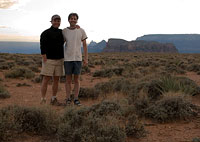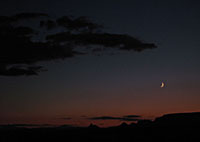 Despite its brevity, this is easily one of the hardest day hikes I've ever done.
It's also one of the most satisfying.
As the sun continues its journey toward the horizon, and the shadows lengthen, I and my brother marvel at the sublime vista before us.
We should hike the Grand Canyon more often, we decide.
But perhaps an easier route? One with a trail? Yes, that sounds like an excellent idea.
We pull ourselves into the truck, fire up the engine, and begin the long, punishing drive home.
I gaze back at the Canyon, unwilling to let it slip away from view.
In his epilogue to Exploration of the Colorado River and Its Canyons, John Wesley Powell writes:
"The Grand Canyon is a land of song.
Mountains of Music swell in the rivers, hills of music billow in the creeks, and meadows of music murmur in the rills that ripple over the rocks.
All this is the music of waters.
The adamant foundations of the earth have been wrought into a sublime harp, upon which the clouds of the heavens play with mighty tempests or with gentle showers. The glories and the beauties of form, color, and sound unite in the Grand Canyon—forms unrivaled even by the mountains. It has infinite variety, and no part is ever duplicated.
Its colors, though many and complex at any instant, change with the ascending and declining sun; lights and shadows appear and vanish with the passing clouds. You cannot see the Grand Canyon in one view, as if it were a changeless spectacle from which a curtain might be lifted, but to see it you have to toil from month to month through its labyrinths.
It is a region more difficult to traverse than the Alps or the Himalayas, but if strength and courage are sufficient for the task, by a year's toil a concept of sublimity can be obtained never again to be equaled on the hither side of Paradise."
WARNING: the Walter Powell Route is a remote and dangerous hike not recommended for any but the most experienced and determined Canyoneer. Please note permits are required both for camping and hiking on the Navajo Reservation. Contact Navajo Nation Parks & Recreation for the most up-to-date information.