Walter Powell Route — Page 3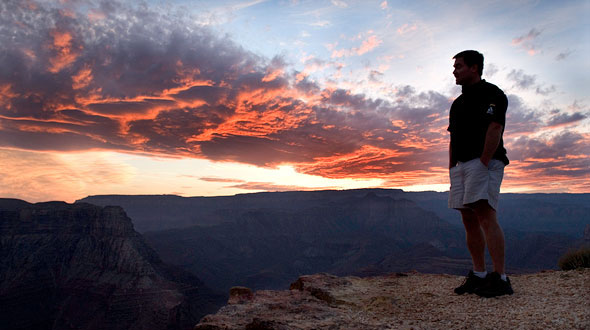 My Own Private Canyon
The dirt road ends in a simple cull-de-sac atop a narrow finger of rock that extends outward into space, 3400 vertical feet above the Colorado River.
We are high above the intersection of the Colorado and Little Colorado Rivers, confronting a view that has defied description since humans first gazed upon it.
The sky is on fire. The ground has split wide before us. The sight is almost too wonderful to bear. I turn to my brother, and the excitement in my heart makes my voice shake. 'Everyone should get to see this at least once in their lives,' I say.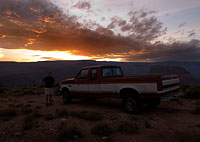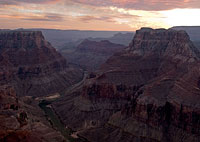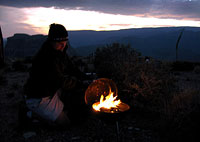 My brother is silent.
We park the truck and get out.
As perhaps the most popular natural wonder on the planet, privacy might seem to be hard to come by atop the Grand Canyon's rim.
But there are no crowds here. No guard rails, nature trails, concession stands, t-shirt wearing tourists, sidewalks, streets, nor signs.
There is nothing but the naked rim of the Grand Canyon and the wind's whisper.
We are utterly, gloriously alone.
This is where we will camp tonight, beneath the stars, grateful guests of the Navajo Nation.
We can thank the Navajo people for being such good stewards of this unspoiled land.
The Navajo have resisted many of the sort of exploitive development projects that other tribes have embraced (ie, Casinos, Outlet Malls, Sky Bridges).
Unquestionably, such big-money projects would be of some economic benefit to an otherwise impoverished people.
But the Navajo have a unique relationship with the land, a respect that has thus far exceeded the allure of the bulldozer. Perhaps they value this landscape so highly because they know what it is like to lose it. Shortly before John Wesley Powell's river voyage, the Navajo embarked upon an adventure of their own, courtesy of the U.S. Government.
In 1864, the Navajo were forcibly marched from this, their homeland, to Fort Sumner, New Mexico—the Long Walk. President Andrew Jackson's 'Indian Removal Act' also forced the Navajo to leave many elderly and young children behind to die. Six disease-plagued years later, they were released from internment camps and allowed to return to their homeland in Northern Arizona. The government had decided that 'caring' for the Navajo people in New Mexico was too difficult and costly.
Red and orange hues gradually fade from the sky as my brother and I finish our dinner. The Grand Canyon recedes behind a hazy veil of shadows. We unroll our sleeping bags a few feet from the rim and settle down beneath the stars.
Tomorrow, we will search for the narrow chute that breaches the Canyon's uppermost layer of cliff—Kaibab Limestone—and then follow Walter Powell's route down to the two rivers. My brother and I talk for a while of the upcoming hike tomorrow, but gradually drift toward sleep. If there are ghosts wandering the darkness in the canyon tonight, they are silent.