Walter Powell Route — Page 5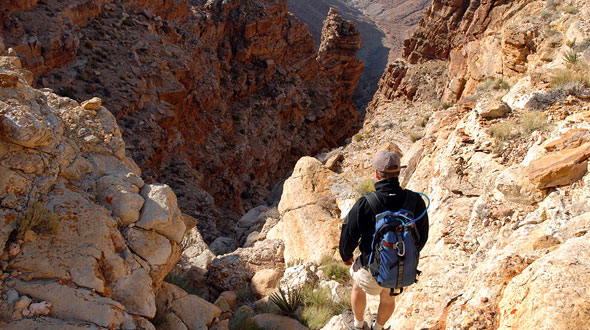 The Entrance
The rim of the Grand Canyon, 8:30 a.m. My brother's memory leads us to a small cairn of rocks piled atop the rim. Immediately below, a not-especially welcoming gully leads sharply downward.
This is it—the start of the Walter Powell Route. A quick check to the east reveals a narrower companion gully nearby. Going by the very sketchy information we were able to dig up, the eastern gully is the harder of the two, so we choose to stay with the western option.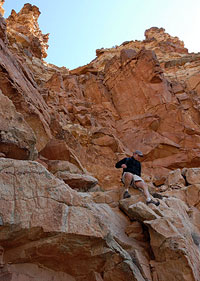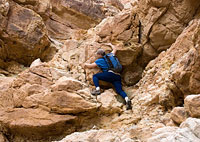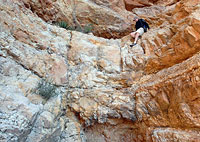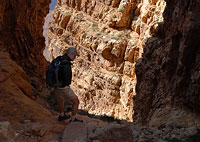 We dive right in to what will be the hardest climbing of the day. The chute is comprised of a series of waterfall steps, each of which must be downclimbed.
Exposure on these steps is modest, though certainly enough to make a fall nasty.
Some climbers report using a rope to rappel down the spicier sections.
If you're not interested in rappelling, having a rope along at least permits you to lower your pack down first.
We, of course, have no rope.
But allow me to go on record here as saying the climbing is tricky.
California convention requires me to rate the climbing Class 3 in difficulty, but many of these steps are twenty feet tall or higher, necessitating long reaches over alarming drops to connect holds.
That's enough to make my brother nervous.
In his eyes, his earlier solo effort is starting to look downright reckless.
As for me, the climbing seems manageable.
To be fair, however, this is perhaps more due to my recent high-exposure adventures on California's Mount Russell rather than to any semblance of ease on the Walter Powell Route's upper rock.
This upper cliff scramble is roughly three hundred vertical feet high, but there are numerous steps to be passed—and each one seems a little harder than the last. To me, the big issue here is one of remoteness. Save an extraordinary coincidence, we will not see another person in the Canyon until we reach the Colorado River far, far below.
Any sort of accident therefore puts us a long, long way from help.
Despite my own soloist tendencies, I am forced to agree with my brother: this is no place to travel alone. As we carefully work past the various steps and scrambles, I contemplate Walter Powell's 1869 adventure in this same gully, and that of the Powell Expedition itself. Their sense of isolation and vulnerability must at times have been overpowering.
Back in the present, my brother and I aim for a prominent pinnacle of rock—a good landmark to remember in spotting the route. Thanks to the steepness of the terrain, we've made quick progress down the canyon, and the gully we're following comes to a pinch. Beneath the rock pinnacle, we must now traverse eastward to avoid an unclimbable step.
Below us, there will be a few more sections requiring modest climbing. But the day's challenges are far from over.