Walter Powell Route — Page 6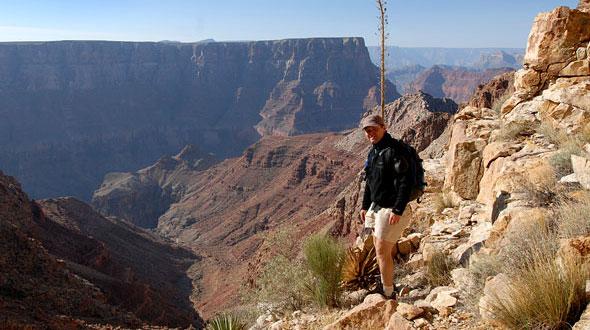 Esplanade Traverse
After climbing down through Coconino Sandstone, we emerge from the base of the rim gully and traverse east toward the center of the drainage.
The route finding will be straightforward for a while now. We must simply follow this vast drainage as it winds its way downward through the Canyon's various layers of rock.
As the crow flies, it's a little more than a mile from the rim to the Little Colorado River, another 1.3 miles to the Colorado, and a one-way vertical drop of approximately 3400 feet.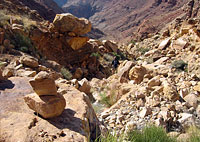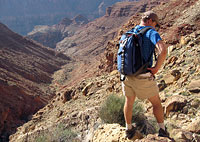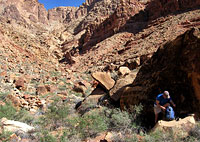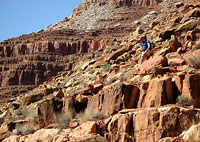 This certainly makes for a steep hike, but let's face it: by Sierra standards, these are modest numbers. The numbers, however, simply don't reflect the hike's actual difficulty.
This is soon apparent to both my brother and me.
We scramble down a talus of Hermit Shale mixed with loose blocks of Coconino Sandstone fallen from above.
The terrain is exceptionally steep and loose, yet the rocks themselves are razor-sharp.
This makes footing unusually challenging. Our shoes alternately slide and stick, making for a jarring descent.
We both take a few spills here and there, falling into thick spiny brush and cactus.
My brother shouts a warning to be on guard for rattlesnakes. Funny—I was just about to call the same out to him.
But back to the terrain: the Walter Powell Route hikes bigger than it is.
Double the Powell Route's 3000' gain, and you might get a sense of how fatiguing the hike actually is.
We continue down this improbably steep upper drainage, nearing the red rocks of the Esplanade.
Here, immense blocks rest precariously over crumbling soil, vivid evidence of erosion at work. This is also a reminder that attempting this route in the rainy season would be an exceptionally poor idea. I call for a pit stop at a shady patch behind a rock. We eat a quick snack and drink water. Looking up, I survey the ground we've already covered. Interestingly, there is no apparent route to the rim from our present location.
This again makes me think of Walter Powell's climb. It was August when he made his way up this drainage to the rim. The heat would have been oppressive. How many tries did it take Walter to find a way out, I wonder? It is a cruel reality of the Canyon that viable routes often do not materialize until you're right on top of them.
Conversely, what seems to be a promising avenue through this layer or that may prove impassible only after you've committed yourself to climbing it. Modern Canyoneers thrive on this challenge, which is not unlike solving a vast puzzle. Yes, the landscape does offer clues: a fault line here, a broken talus slope there. But I would certainly not want to be dropped at a random point on the River and have survival depend on finding a way out.