Walter Powell Route — Page 9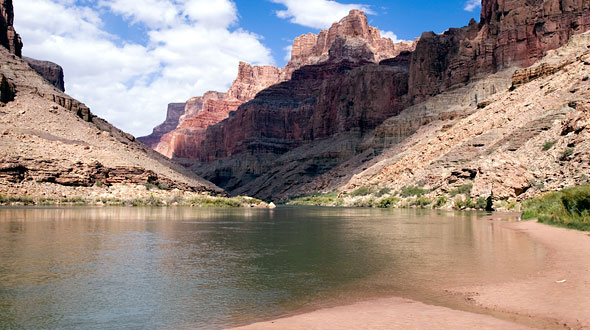 The Confluence
Pale blue water swirls into dark green where the Little Colorado and Colorado Rivers meet. I've reached the Confluence, elevation 2700'.
I've done it—successfully connected rim to river. I wander to the shore of the Colorado and drop my pack in the sand.
The time is 1:24 p.m. It's taken longer to get here than I'd like—nearly four hours. While that's by no means a snail's pace, neither is it a record.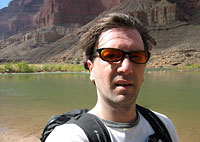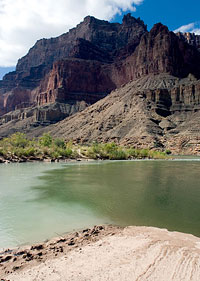 I'm alone at the Confluence today, which seems a bit unusual. Normally, this is a popular lunch spot for river rafters.
It would be nice to bum an ice cold soda; maybe a bite to eat.
Since leaving my brother at the Little Colorado River, I've pushed the pace as much as possible, even jogging a few flat sandy sections to get here.
Now, I'm hot, tired, and thirsty.
My legs are starting to ache.
With the vast majority of the day's work still ahead of me—getting out—I feel my own twinge of anxiety.
The rim seems spectacularly high above.
I pump water, fill my belly, pump some more, and fill my two liter bottles.
I'd like to stretch out in a shady spot and take a nap, but I know my brother is right. We don't want to climb out in the dark. So, I chow down half a peanut butter and jelly sandwich, soak my feet in the 40° Colorado for a few minutes, and then pack up.
This river touch-and-go is guaranteed to cause me trouble, and sure enough, as soon as I heft my pack and begin trekking back up the marshy sandbars alongside the Little Colorado, I find I need to slow my pace. The sun is cooking me, and that bellyful of water is making me queasy. Again, I wish I had time to lie down and rest.
I find myself wondering whether the Walter Powell Route could reasonably be done as an overnight, rather than a heroic single day push. But camping permits in the Grand Canyon are not easy to come by, I know, and camping in the region of the Confluence itself is prohibited.
Consider also the difficulty involved in lowering a heavy backpack loaded with gear down through the cliffs above. All would seem to make day tripping the most logical, if not ideal, option. It's the only option today, at least, so onward I go.