Onion Valley to Cottonwood Lakes — Page 11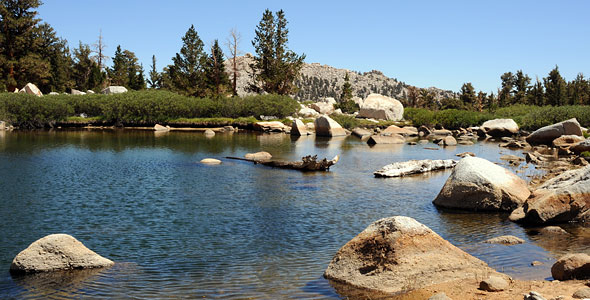 Chicken Spring Lake
How far is it to Chicken Spring Lake? We've been traversing across an interminable stretch of sand around Cirque Peak, and it seems to go on forever.
The sand is soft, deep, and hot enough to heat the toes through our boots. The green glades of Rock Creek and places past are now just a distant memory. We've been steadily climbing since leaving the Siberian Plateau—gaining nearly 500 vertical feet instead of the mostly-flat ground our map seemed to indicate.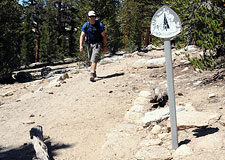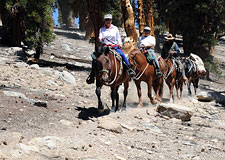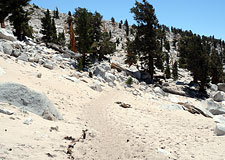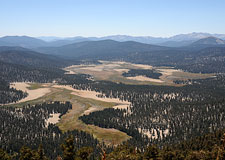 As expected, we've run out of water, providing an extra incentive to reach the lake as soon as possible.
Water is the crucial consideration along this part of the trail.
Some authors recommend traveling the Siberian-Cottonwood leg in early spring.
The southerly aspect of the trail melts away winter snow early in the hiking season, and the creeks and springs are still running.
This allows for a variety of possible campsites, unlike now, where everything in sight is dry.
Bill and I know we're traversing around Cirque Peak, but the landscape is deceptively constructed.
It feels like we're constantly about to round the corner and spot the lake, but instead, each ridge just offers another long dry stretch leading to the next high point.
The sand, meanwhile, saps our energy and slows our steps.
Also entering the motivational picture now are thoughts of food—real food.
The effects of Bill's semi-starvation diet are starting to kick in: Bill's hungry.
And even though I've eaten relatively square meals thus far, I'm starting to focus on a variety of caloric delights as well.
This is popping up, appropriately enough, in our inability to correctly remember the name of our present destination. Where the hell is that damned Chicken Wing Spring? I mean Chicken Fingers Lake...
What's it called again?
The combination of heat, sand, repeated up-and-down traversing, and tasty chicken obsessions is turning this section of the Pacific Crest Trail into a real grind. Helping ease matters a bit are the fine views to the southwest, including the big expanse of Big Whitney Meadow, which we overlook.
At last, we crest the last high point of our entire hike, and the blue waters of Chicken Spring Lake spring invitingly into view. We descend several hundred vertical feet to the lake, then fill our bellies with crystal clear Sierra water. We take an extended break at the lake. After about an hour, it's still only 2 o'clock. Bill and I make our decision: we're going to keep going.