Onion Valley to Cottonwood Lakes — Page 12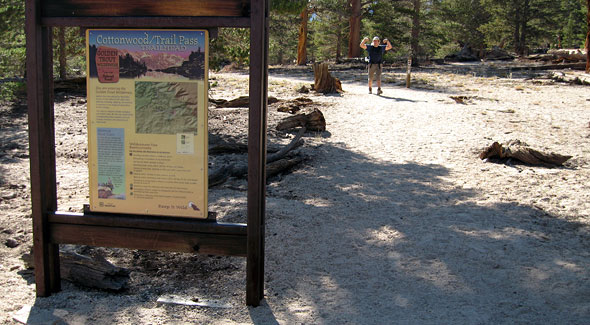 Cottonwood Pass
From the top of Cottonwood Pass, elevation 11,140 feet, it's just three point eight miles to the car and the end of this five day, fifty-plus mile adventure.
I pick up the pace on this last stretch, which after all the miles we've traveled thus far feels now like a victory lap. My body has held up much better than expected. Still, I'm glad to be heading home, back to my family and that happy land of warm beds, drive-thru windows, and indoor plumbing.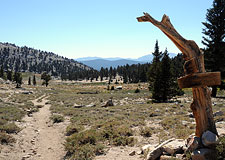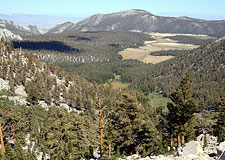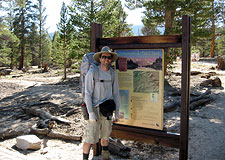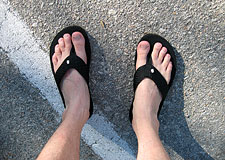 We must drop a little over a thousand vertical feet to get to the Cottonwood Pass trailhead, where our carriage awaits.
This last thousand, combined with the ten miles we've already hiked today, makes these last few miles far from effortless.
My mind drifts here, contemplating the sights we've seen over the past week.
In every way, the hike has been a stunning success.
Both Bill and I are still mobile, which is good.
We've not been sidelined by a turned ankle or diaper rash or starvation or any of the other worries that swirled about in the weeks when we planned this trip.
And traveling the undiscovered country of the Sierra's interior—the high plateaus, the meadows, the remote peaks and passes—has in every way exceeded my expectations.
This hike has opened up new vistas and new possibilities for me.
I find myself thinking up new hikes to follow: a trans-Sierra walk, perhaps.
Maybe a peak-bagging trip to the Kaweahs?
And, yes, next year I think another stretch of the Pacific Crest Trail will come calling.
Onion Valley to Mammoth, perhaps? Really, what strikes me more than anything is that multi-day hiking like this is not just for the hardcore thru-hiker. It's for anyone who wants to see the Sierra (or somewhere else) in a brand new way—and maybe see themselves a little differently also.
For these past five days, Bill and I have returned to the nomadic ways of humans from ages past, carrying all we needed to survive on our backs. To be sure, modern gear and tactics have made things a great deal easier. But the principle—self reliance—still holds.
I finish descending Cottonwood Pass's many switchbacks. From here, there is but a long but flat stretch of trail across Horseshoe Meadows between me and the end of the trail. For a moment, I have a crazy notion of turning around and heading back into the wild: hiking all the way to Canada, maybe, and then beyond. But no, it's time for me to return home, and share these memories and experiences as best I can.
The parking lot is just ahead—I can see my car waiting. With one final look at the Sierra behind me, I complete the last few steps from Sierra granite to SoCal concrete. It's time to go home.