Onion Valley to Cottonwood Lakes — Page 2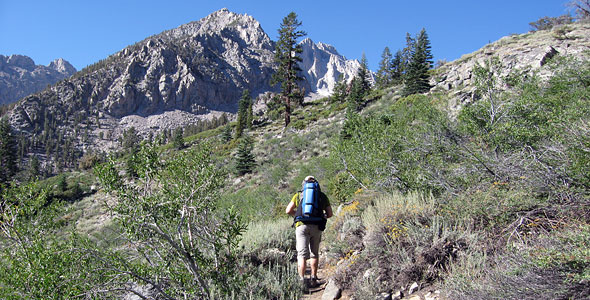 Onion Valley
Packing up my belongings in Lone Pine the night before, I was simultaneously concerned I'd packed too little and too much food. In the end, I overstuffed my pack.
Now, in the last few moments before our departure, I reverse myself once again and reluctantly pull a few items from my pack and stash them in a bear locker. It's eight a.m. Bill and I are ready ourselves at the Onion Valley trailhead. Neither of us seems especially eager to get moving.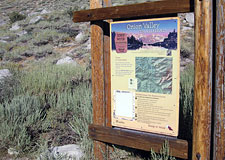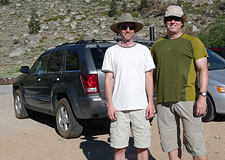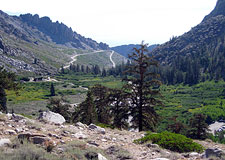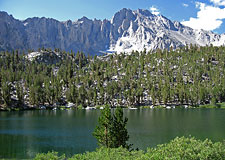 Food, weight, gear.
These are the thoughts swirling through my head as I lace up my boots, slap on some sunscreen.
I've got a new one pound nine ounce sleeping bag.
Bill's got a new Granite Gear pack that weighs a mere two pounds, six ounces.
I'm bringing a microfilter (9.9 ounces).
Bill plans to drink his water straight from the source.
I'm carrying a little over eleven pounds of food—close to the unofficial recommendation of 1.5 lbs per day.
Bill, crazy radical that he is, is carrying seven pounds of food.
Not including Gatorade, he's budgeted himself an exceedingly meager 1580 calories per day.
He plans to make up the difference by burning up a little extra fat each day—the Survivor™ diet plan.
I'm convinced he'll be gnawing pine cones by day four.
In any case, the end result is that Bill's pack comes in a few pounds lighter than mine (significantly lighter, if you factor in my camera gear).
As crazy as his food strategy sounds, I find it hard to argue with the result—especially when I heft my own alarmingly-heavy pack.
Up the trail we go. Today we will climb from Onion Valley, elevation 9200', up and over Kearsarge Pass, 11,760', and back down to the Kearsarge Lakes. Continuing westward, we will then junction with the Pacific Crest Trail, and from there hike south to our first camp near Vidette Meadows, elevation 9532'.
This lengthy Day One itinerary entails a substantial amount of vertical gain and loss, plus 9.4 miles of travel. With these first, few, slow steps, it's probably best not to dwell too much on the many miles—or days!—ahead. Despite the early hour the sun is already hot. After an hour so of switchbacks up a mostly arid landscape, pine trees appear, and Bill and I pass the first in a series of lakes. The air is cooler here. We stop for a short break: so far, so good.
Back on the trail, I try to focus on walking efficiently with my pack—not bouncing or swaying side to side any more than necessary. Pacing seems like it will be a critical factor on this adventure. More than anything else I want to avoid wearing myself out prematurely. That's the primary fitness goal today—conserve energy.