Onion Valley to Cottonwood Lakes — Page 3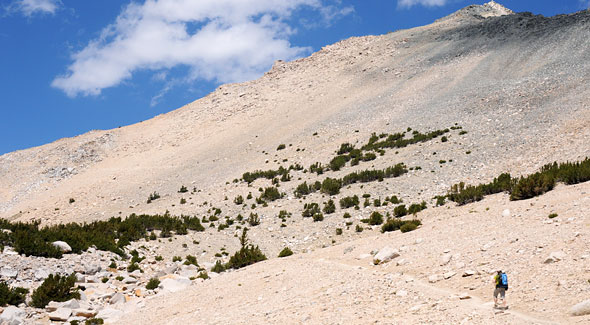 Kearsarge Pass
A big part of the appeal of our hike down the Pacific Crest Trail is the opportunity it affords us to explore at least a part of the Sierra Nevada's vast, hidden interior.
The depth of the Sierra is not easily appreciated from either east or west. To truly understand how far in the range goes, one must hike inward, gaining access to a vast, undeveloped wilderness full of unexpected sights.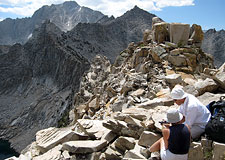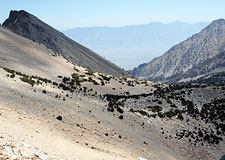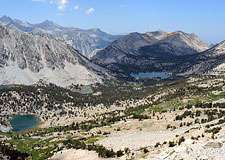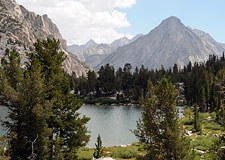 At least, that's what we hope to find.
A long, bare talus field traverses beneath Mount Gould, leading us slowly upward to Kearsarge Pass.
A few puffy clouds have appeared overhead, and the wind is picking up.
Bill arrives atop the pass first.
When I join him, I get my first glimpse of that hidden interior: the view does not disappoint.
Compared to the barren desert of Owens Valley, behind and below us to the east, the contrast to the west is startling.
We see a lush landscape of alpine lakes, meadows, and ferny forests.
In the distance below are the blue gems of the Kearsarge Lakes.
Beyond them rise the impressive spires of the Kearsarge Pinnacles.
And beyond that...rugged, mountainous wild country as far as the eye can see.
Bill and I descend a steep series of switchbacks down dry, loose talus to get out of the wind.
Several hundred feet down, we stop for lunch, marveling at the westward views. The Sierra, from this vantage, looks rightfully immense, sweeping north, south, and west as far as we can see—all of it wilderness. It doesn't take long, once we resume hiking, for greenery to sprout all along us. This is the first big revelation of the interior: the abundance of lush meadows, misty air, and running water.
Adding to the ambiance are puffy white clouds overhead, which give the horizon a magical glow. Marveling at this new landscape, dominated by the towering peak of East Vidette on the horizon (beneath which we'll camp tonight), I feel a bit as if we've wandered into the cinematic realm of Tolkien's Lord of the Rings.
We work our way steadily downward, mile after mile, passing Kearsarge Lakes, then Bullfrog Lake, until at last we rendezvous with the Pacific Crest Trail (which here is also the John Muir Trail). This is it! Despite the eight miles or so we've already traveled, this feels like the start of the hike. Bill and I turn south onto the PCT, and our adventure is now officially underway.