Onion Valley to Cottonwood Lakes — Page 4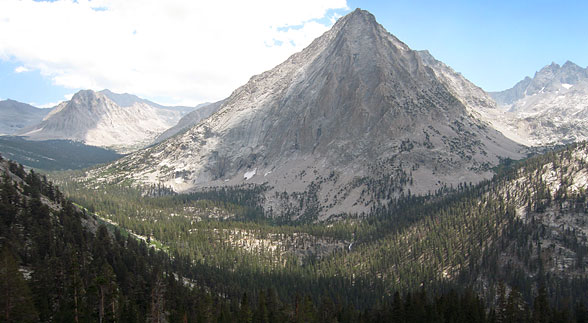 Vidette Meadows
As we descend into the Bubbs Creek drainage, the humidity rises. Muted afternoon sun pokes lazily through thick green treetops overhead.
The ground, meanwhile, is now blanketed with a vibrant layer of ferns and grasses. From the junction of the Pacific Crest and Kearsarge Pass trails, we still have another thousand vertical feet to descend, all of it in the shadow of East Vidette.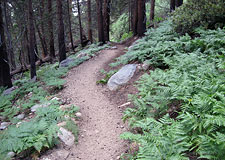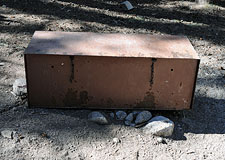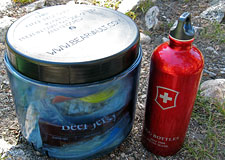 East Vidette has an almost hypnotic look to it.
With its sheer north walls and elongated, symmetrical lines, the prominent East Vidette Peak commands our attention.
Bill and I have left open the possibility of summiting side peaks, as time and energy permits.
But as much as I'd love to try to scale East Vidette today, my body is letting me know in no uncertain terms that it's time to find a place to camp.
At last we reach lower Vidette Meadow, where we pass the first of two local bear lockers.
In Kings Canyon National Park, bear lockers are placed at roughly 10-12 mile intervals along the Pacific Crest Trail.
I myself find the boxes a welcome and unobtrusive answer to storing food in bear country.
It would be fine with me if the US Forest Service made an effort to place them at popular camping spots throughout the Sierra—but this is not the case.
As we travel the Pacific Crest Trail in the days ahead, we will pass through several designated high-activity bear zones (Vidette Meadows included).
With some ambiguity, hikers are required by law to have a personal bear canister in their possession at all times in these zones, though obviously where there is an available bear locker they may use that instead.
To comply with the law, Bill and I both carry BearVault Solo canisters—though we do occasionally grumble about the extra weight. We stake our claim on a fine campsite near Bubbs Creek and set up our gear. I notice an odd, claw-shaped scar on a tree near Bill's tent, and point out the marks to him.
It appears Bill has unknowingly chosen to sleep beneath a bear scratching post. Hmm. Maybe the bear canisters are a good idea, after all, we decide. In any case, the tree serves as a potent reminder that we are, in fact, traveling through bear country.
Later, I lie down in my tent, eyes wide open, feeling sore and queasy from the day's effort. My hips feel bruised from my pack's waist belt. My feet are sore. My head hurts. I can't help but contemplate the tremendous distance that lies between us and Horseshoe Meadow.
The reality of this hike hits me—we've got a long way to go.