Onion Valley to Cottonwood Lakes — Page 5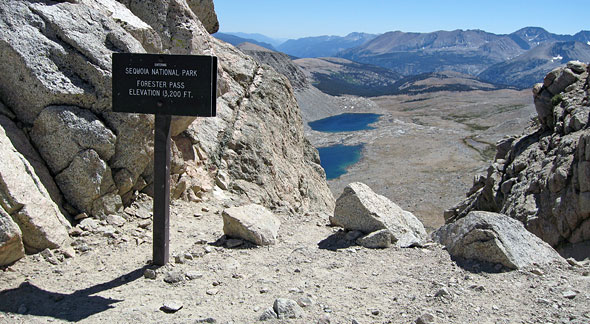 Forester Pass
From either north or south, Forester Pass, which breaches the Kings-Kern Divide, poses one of the Pacific Crest Trail's most formidable challenges.
It's Day Two. Following a chilly but bear-free night, Bill and I have packed up and are back on the trail, heading south. From Vidette Meadows, we plan today to climb up and over Forester Pass, elevation 13,180'—a distance of seven and a half miles. Then, we'll keep hiking toward Tyndall Creek (five more miles) until we get low enough to safely camp.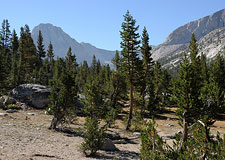 Center Peak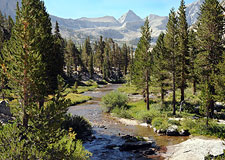 Bubbs Creek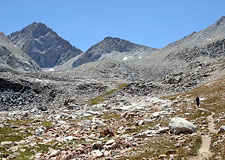 Gaining Altitude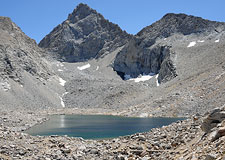 Junction Peak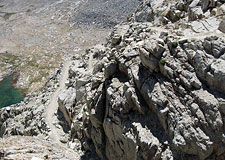 Forester Pass — South Side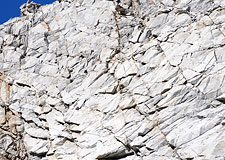 Exposure on the PCT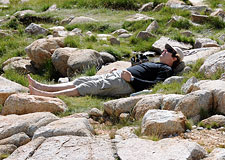 A Well-Deserved Rest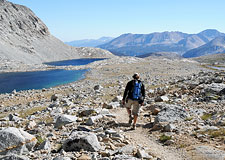 Heading toward Tyndall Creek
Any way you look at it, it's going to be a long haul.
The view to the south is dominated by Center Peak, whose lofty 12,760' elevation we will easily surpass today.
Forester Pass, for the moment, is hidden beyond the horizon.
We follow the trail alongside Bubbs Creek, stopping as needed to refill our water bottles.
Our pace is slow and steady.
We try to stop every hour or so to stretch the legs and air out the feet.
As we slowly make our way upward, the verdant terrain begins to shift, becoming drier and more alpine.
Gradually, Bill and I settle into our own paces, at times hiking together, at times wandering apart.
I find myself flowing into the simple rhythms of the trail.
Yes, the pack is heavy and my feet are sore, but the sun is shining and the day is glorious.
There is a refreshing clarity to the task at hand, I find.
Rather than face my usual list of daily chores (which I never quite manage to complete), here in the Sierra backcountry we must only put one foot in front of the other.
That said, the climb up to Forester Pass does indeed seem to go on forever.
We pass a few hikers heading down, plus one group heading up.
To the north, I can now see the distant dark granite of the Palisades.
When I at last crest Forester Pass, and survey the dramatic cliffs on the opposite side, it is with much relief.
It's nearly three o'clock.
Getting atop the pass has consumed the better part of the day.
I take a moment to enjoy the sweeping view of the Sierra south of Forester Pass.
For the first time, the Kaweahs come into view, along with the Kern River Gorge, winding off to the southern horizon.
Here atop Forester Pass I overlook a steep slot gully plunging through an 800' high headwall.
The trail beyond has been carved out of solid Sierra granite, following the slot down.
With its sudden mixture of steepness and exposure, the route is reminiscent of a Grand Canyon hike.
This impression is reinforced when I start down the south side, switch-backing across the slot gully, then traversing across that bold headwall. Despite the vertigo, it's a relief to be heading down. I work my way to the series of small lakes at the base of the headwall. Here, I pull of my pack, find a nice flat rock to bask on, and wait for Bill.
When I spot him, he's a tiny dot inching across that immense granite headwall. If you didn't know there was a trail there, you'd swear he was free-soloing 5th class rock. When Bill arrives, we celebrate our relief at having crested Forester Pass. With abundant water and several outstanding potential campsites in the immediate vicinity, the temptation to stop and call it a day is strong.
The only downside to camping near Forester Pass (on either side) is the elevation. We are presently relaxing at just over 12,500 feet. As this is only day two for us, a pair of sea level-dwellers, camping this high seems like a poor idea. I'm tired but not spent, so I suggest we keep moving. So, once again, the packs go on our backs and we hit the trail.
I hang my bandanna from my hat to shade my face and neck from the sun. Soon, we get our first glimpse of Mount Whitney, as well as rousing views of California fourteener Mount Tyndall, to the east, and of course the Kaweahs, to the southwest.
After the steep up and down of the pass, the Pacific Crest Trail now descends at a gentle, consistent angle. This allows us to pick up the pace a bit, and the five miles to Tyndall Creek pass with surprising ease. Forester Pass is behind us. Our most difficult day of hiking is almost over, and we've survived it with spirits and bodies mostly intact.