Onion Valley to Cottonwood Lakes — Page 6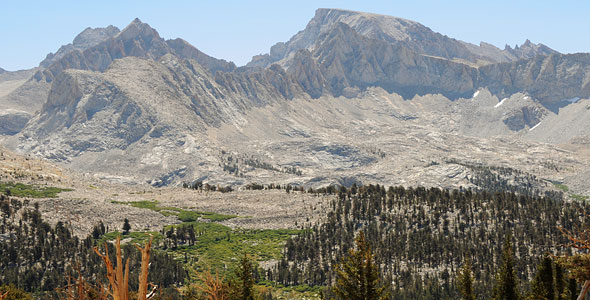 Whitney From the West
The big-ticket attraction between Onion Valley and Cottonwood Pass is of course Mount Whitney, at 14,496' the highest point in the continental U.S.
Faced with the year-long wait lists and permit woes of Whitney's east-side approaches, both trailheads are often used as alternatives by would-be Whitney hikers. Obviously, coming at Whitney from the west adds a significant number of miles to the potential challenge.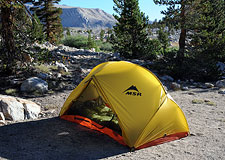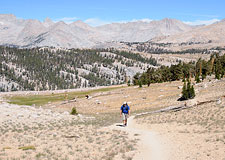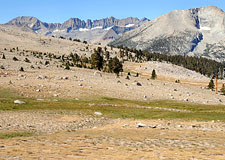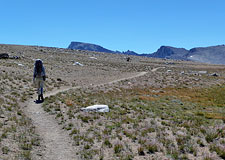 But both the Onion Valley and Cottonwood Pass approaches offer their own special charm as well.
It's Day Three, and Bill and I are once again on the move, heading toward Crabtree Meadows—gateway to Whitney.
After a relaxing night camped at Tyndall Creek, we are now climbing up Bighorn Plateau, where we get our first unobstructed views of Mount Whitney.
We're already seen two days' worth of stunning landscapes, but the views from Bighorn Plateau surely deserve their own special category.
A high, dry, grassy plain, Bighorn Plateau provides a 360 degree view of the interior Sierra Nevada.
Behind us is an uninterrupted panorama of the peaks of the Kings-Kern Divide—remote gems like Thunder Mountain, Mount Jordan, and Mount Ericsson.
Climbing any of these would make for a rousing mini-expedition.
To our west are the Kaweahs, now appearing much closer.
White permanent snowpacks gleam against the Kaweah Ridge's darkish red and brown granite.
And dominating the eastern horizon are the high peaks of the Whitney Zone, from Mounts Tyndall and Williamson to the north to Russell, Whitney, and Langley (hidden) to the south.
As Bill and I slowly climb the plateau, Whitney pushes higher and higher against the sky, clearly establishing itself as the Sierra's highest point. Atop the plateau, we take a break beside a quiet alpine lake, enjoying the magnificent views all around. Every few minutes, we rotate our positions to gawk in a different direction.
Perhaps the single greatest advantage to taking either the Cottonwood (or Army) Pass or Onion Valley approach to climb Whitney is that it allows you to fully appreciate how big Mount Whitney is. Seen as it most commonly is from east and the town of Lone Pine, Mount Whitney appears subordinate to the surrounding peaks of the Sierra crest.
Gaze however at Mount Whitney from the west, and you see at once that Whitney is not only by far the highest point in sight—the massif itself is immense. From no other direction do you gain such a clear sense of the mountain's scale compared to its neighbors.
True, all of the west-side approaches (including Shepherd Pass, or even traversing the range from Stony Creek or Buckeye Flat) are long and arduous. But they are also not without reward, and I resolve someday to hike one of these routes up to Whitney's summit myself.