Onion Valley to Cottonwood Lakes — Page 7
Crabtree Meadows
From the arid high-altitude prairie of Bighorn Plateau, Bill and I drop down once again into lush greenery as we enter the Wallace Creek drainage. We have a bit of up-and-down work ahead.
After we cross Wallace Creek we'll have to climb again to crest an unnamed pass (10,988') before descending into Crabtree Meadows and camp, roughly five miles beyond. These gentle climbs and descents would ordinarily pose little challenge.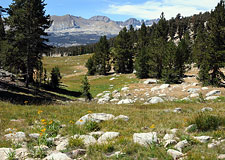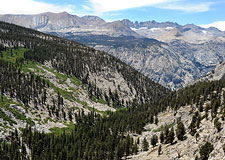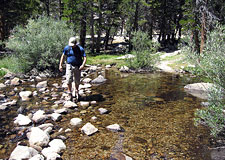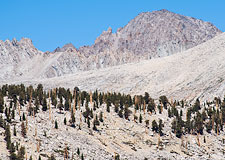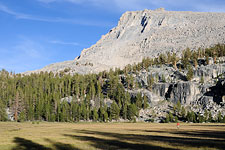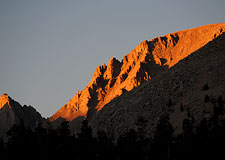 But I'm discovering that they become quite a bit more significant with an overnight pack on your back. Today's itinerary thus remains strenuous despite the relatively modest total distance.
That said, both Bill and I are getting more comfortable with this idea of hiking ten or more miles a day, day after day, with all our gear.
It's not only doable—it's a heck of a lot of fun.
Onward.
To our west, a series of broad green meadows push toward the Kaweah range—one more spectacle of natural beauty. The Wallace Creek Drainage also affords us our first good look at Kern Canyon.
That this vast, deep gorge exists within the Sierra is news to me, exposing my ignorance about the interior Sierra's geography.
Suffice to say, Kern Canyon is huge—yet another of the mighty Sierra's secrets.
You could lose yourself in here.
I find myself thinking—with envy—of Norman Clyde's wanderings.
To dedicate one's life to exploring as much of the Sierra as possible strikes me in this moment as a fine endeavor.
Of course, I'm also quite fond of all the creature comforts awaiting us back home.
Back up we go, a longish 500 hundred vertical climb along the opposite (south) side of the Wallace Creek drainage.
Here, we encounter yet more meadows, plus occasional glimpses of major peaks to the east, including—surprise!—no less than Mount Williamson's rugged west face.
And then, at last, a rather steep section of switchbacks lead us down to Crabtree Meadows.
The Pacific Crest Trail seems a little busy here, as Whitney-bound parties camp about the meadow.
Crabtree Meadow itself is a large, somewhat boggy expanse of grass with a fine view of Mount Russell. Bill and I choose campsites right on the edge of the meadow and unpack our gear. It's already late afternoon. A bit of rest would be nice, but I always find myself in perpetual motion when I get to camp. First, there is the search for a place to pitch the tent.
Then I must unpack all my gear, find a place to hang wet clothes, shake the dust off everything. Set up the tent, unroll the sleeping bag, inflate the pad. Go get water, soap up the hands and face to make myself human. Dry off, swat a few mosquitos. Simple tasks, all of them, but they each take time.
Setup the stove and brew some tea before dinner. Cook dinner and eat it—pile in those calories to replace as much as possible what was lost on the trail today. Keep drinking water and tea: hydrate for the coming night. If you can, steal a minute to get into the tent and stretch stiff muscles before they turn to rusty springs overnight.
When all these chores are done, I see the last rays of sun glowing orange on Sierra granite overhead. I grab my tea and join Bill, who is reclining on a rock, watching the sunset. Another day is done.