Onion Valley to Cottonwood Lakes — Page 8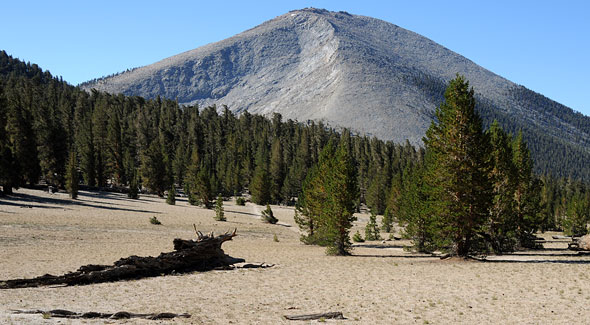 Interlude: Mount Guyot
Another Chilly night. A lattice of frost crisscrosses Crabtree Meadow in the early morning, and ice bits cling to the outside of my sleeping bag. It's Day Four.
I fire up the stove and brew tea, waiting eagerly for the sun to crest the Whitney massif to the east and warm my shivering body. Our pace thus far has actually put us ahead of schedule—we're roughly a half day farther than we thought we'd be by now, which gives us a little wiggle room to add in a side hike.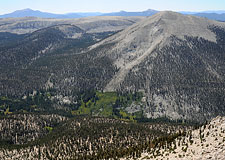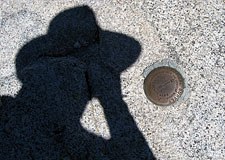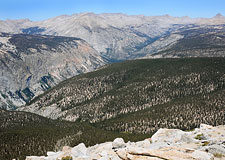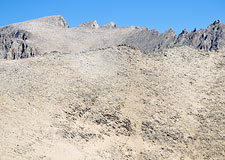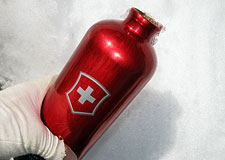 So, when Bill proposes we climb Mt. Guyot, elevation 12,300', I'm all for it.
Guyot's summit is a little less than a mile west of Guyot Pass, which we must climb anyhow.
We pack up after breakfast and hit the trail once again.
From Crabtree Meadows we begin the day right away with a 600 vertical feet climb to Guyot Pass.
Here, Bill and I take a lunch break, enjoying a fine overlook of the Rock Creek area (today's eventual destination).
Then we stash our packs and make for Guyot's summit.
Climbing without overnight loads is a pleasure—like suddenly being supercharged.
I aim for a granite spire, and soon enough, a bit of class 3 climbing gets me to the top, where I find a USGS benchmark.
But look to the west: there is another point along Guyot's broken summit ridge that appears higher.
Alas, Guyot Peak turns out to be one of those annoying mountains that can't quite decide where its true high point lies.
I traverse westward, topping the next high point where I find another USGS Benchmark.
But again, another point westward looks higher.
Well, we've gone this far...
The third time proves a charm: one last USGS Benchmark, plus a stunning view of Kern Canyon.
Mount Guyot affords a 360° view of the surrounding Sierra, allowing us to see almost the entirety of our Pacific Crest Trail hike.
We can peer all the way back to Forester Pass, distant on the north horizon, track our route across Bighorn Plateau, down to Crabtree Meadows. Looking south, we see Olancha Peak on the horizon. Beyond that lies the Southern terminus of the Sierra. And yes, looking east, we have a grand view of Mount Whitney's summit and western flank.
Crooks Peak (Day Needle) and Keeler Needle are there as well, as is Mount Muir's modest pinnacle. Rounding out the view to the north, we can spot the summit of Mount Tyndall, and we can now see Williamson's summit, as well as its twin horns. All in all, I'd say we got our money's worth.
It's time to descend to our packs. I've nearly run out of water here on Mount Guyot, but there are a few snowy patches on the peak's north face, allowing a refill of sorts. The trick to replenishing your water supply with snow is to add just enough snow to make a slushy mix. Add too much snow and you get a big ice chunk. But mix carefully, and the water will act as a conduit, transferring ambient heat to snow, slowly turning it into drinkable water.
If the temperatures are warm and there's an abundance of snow (say, on a spring backcountry ski tour), you can use this trick to nearly double your water supply by dribbling in snow over the course of the day. Just be careful not to get too dependent on it. If temperatures drop, or a wind comes up, your snow will stop melting—and you'll run dry.