Onion Valley to Cottonwood Lakes — Page 9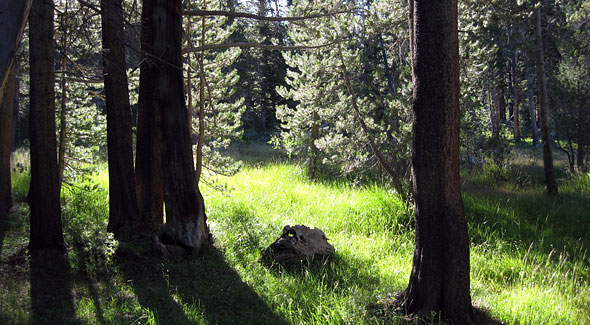 Rock Creek
From the lofty summit of Mount Guyot, it's a quick and easy descent to the green meadows and shady forests of the Rock Creek area. We find a bear box at the first crossing of Rock Creek.
Nearby are several fine campsites on the edge of yet another scenic meadow. Time to drop the packs and set up camp. Despite our side hike up Mount Guyot, it's still early in the afternoon, allowing us to slow our pace and take our time.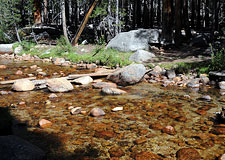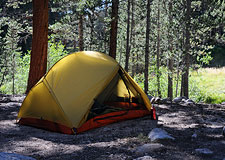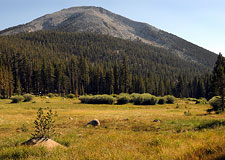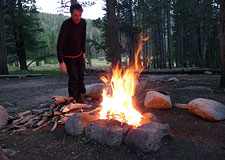 The gently babbling Rock Creek is immediately adjacent our campsite.
I wander around the area, taking photos of the creek and the nearby meadow that leads toward Forgotten Canyon.
Also to the south is an unnamed peak that looks like Mount Guyot's twin.
Here at camp, our present elevation—roughly 9600 feet—is the lowest we've been since Vidette Creek four days ago.
Lower elevation at camp translates into greater comfort.
The air has a pleasant thickness to it (we've begun to adjust to the altitude), and the temperatures are more mild.
I take advantage of the warm air by grabbing my soap and making an extra effort to wash up before dinner.
We've been on the trail for four days now, and both Bill and I are starting to accumulate an impressive coat of dust.
Normally bathing in a mountain creek is a tenuous affair: a race to clean up before you freeze or before greedy mosquitoes devour you.
But here at Rock Creek, the few mosquitoes don't seem much interested in me, and the mild air allows a downright leisurely bath.
After washing up I fill my canteen with pumped water for the night. As an added bonus, there's time for a quick catnap in my tent before dinner. I also take the time to stretch out my legs and back. During these lazy hours Bill has been gathering firewood.
Since we're below 10,000', we're allowed to build open fires. I join the quest for wood, demonstrating my own formidable foraging skills. Together, we put together a healthy pile of everything from tinder to coal-producing logs that will burn well into the night. After a hearty dinner, we stack a few branches and set it alight. Soon, we've got a cozy little fire going.
This is a rare treat. I sit at the edge of the fire, feeling its warmth through my clothes, moving as necessary to avoid getting smoke-cooked. Memories of camping by a fire come bubbling up from the past. Both Bill and I stay up well into the night, hypnotized by the fire, until at long last, reluctantly, we know it's time to go to sleep.