Onion Valley to Cottonwood Lakes
Five Days and Fifty miles on the Pacific Crest Trail
HORSESHOE MEADOWS, CALIFORNIA — I take one last look inside my car, checking to be sure I've left nothing that will appeal to the bears, and then I lock the doors.
It feels kind of spooky as my hiking partner Bill drives us back down Horseshoe Meadows Road in his truck, heading east to Highway 395, then far north to Onion Valley. From there, all we'll have to do is hike back to my car—fifty miles through the High Sierra via the Pacific Crest Trail.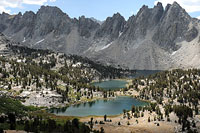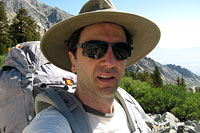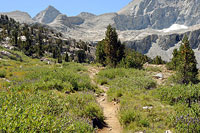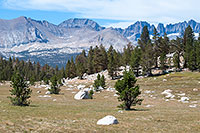 The Plan began as an alternate route to climb Mount Whitney. I was interested in approaching Whitney from either Cottonwood Pass, to the south, or Onion Valley, to the north.
Either option involves extra miles and extra days.
But it's much easier to get an entry permit for these approaches compared to Whitney Portal, and the thought of a little extra adventure appealed to me.
As the hike took shape, however, I received news from several friends who'd just completed long, multi-day hikes through the Sierra on the Pacific Crest Trail.
Around the same time, a new issue of Backpacker Magazine arrived focusing on a new wave of elite thru-hikers.
I wasn't interested in trying to hike from Canada to Mexico in one go, but the idea of hiking a substantial section of the Pacific Crest Trail through the heart of the interior Sierra sounded tempting.
And so, infused with a sudden spirit of adventure, I called up a friend and proposed a six-day hike from Cottonwood Pass to Onion Valley.
To my surprise, he accepted. That committed both of us to the longest hike we'd ever attempted. Simply organizing the logistics of food and gear proved an adventure in its own right—driven by the imperative of keeping our pack weights as low as possible. As the actual day of departure grew nearer, we furiously bounced emails back and forth, trying to glean out the other's every last tip, technique, or trick.
As climbers go, I'm more sprinter than marathoner. How do you train for over fifty miles of hiking? What do you do, after all, if you turn an ankle in the middle of the Sierra? Or bruise your feet? How would I keep myself well-nourished and well-hydrated without crushing my back beneath an unwieldy load? And what of my hiking and skiing partner, Bill?
Would we slowly drive each other insane over such a long haul? Would we eventually refuse to speak to each other? Resort to cannibalism? The greatest mystery of all, however, lay beyond the Sierra's crest. What would we find there? In truth, my Sierra wanderings were mostly limited to short east-side scrambles and ski descents. The vast and remote interior of the Sierra Nevada mountains was undiscovered country to me—and I was eager to explore it.