The Bridge to Nowhere — Page 2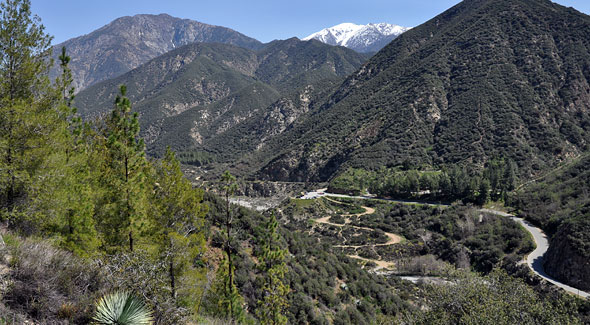 Heaton Flat, Revisited
Suburban Azusa, California is a short twenty miles from downtown Los Angeles. From here, Highway 39 dives north into San Gabriel Canyon and the San Gabriel Mountains.
City concrete and smog recede quickly as you enter the canyon, passing Morris Dam and Reservoir, followed by the slightly larger San Gabriel Dam and Reservoir. Both, of course, are fed by the San Gabriel River. It should by now be obvious that the San Gabriel River is actually...a river.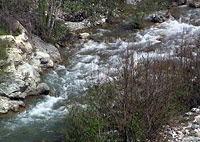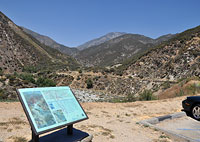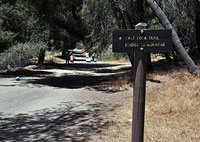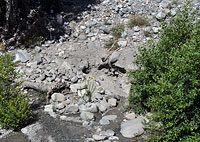 Most times in Southern California I've found anything with the name lake, river, or stream attached to it to be at best a pitiful muck of mud.
Here instead we find a most unexpected abundance of running water (in the otherwise parched San Gabriels, of all places!) transforming arid brush into a surprisingly green landscape.
I follow the winding Highway 39 north, turning right onto East Fork Road, then watching for the turn north again to Heaton Flat.
Eventually, I reach the Heaton Flat parking lot, where I shut off the car and hop out, to gaze northward at the brooding summit of Iron Mountain, towering some 6000' overhead.
Following this past winter's Iron Mountain Adventure, I find myself very relieved to know I'm not heading up there today.
There is no climbing at all on the agenda this morning—just a leisurely four mile hike upstream to the Bridge to Nowhere, total gain a very easy 600 vertical feet or so.
Two things leap out at me: first and most obviously, this is a high-use area, heavily populated with hikers, campers, and wary-eyed figures skulking about with shovels.
Second, where water touches land there is lush greenery, but everywhere else is bone dry, making for a dramatic contrast very reminiscent of the canyons in my home state of Arizona.
I pull my hiking boots on and start hiking along the dirt road (closed to vehicles) to Heaton Flat proper, where today on this first day of the 4th of July weekend I find a veritable tent city popping up in the campground beneath the cool pines ahead. Past the tents and trees, hot sun returns, and I see more shovels. Believe it or not, the banks of the East Fork are often busy with gold panners seeking to strike it rich.
Exactly how much gold they find while sifting through the river's silt is unknown, but it is obviously enough to keep them coming back for more. And, for more adventurous explorers, Iron Mountain's slopes are home to not one but several old gold mines, some of which remain active (though unworked) claims—trespassers beware.