The Bridge to Nowhere — Page 4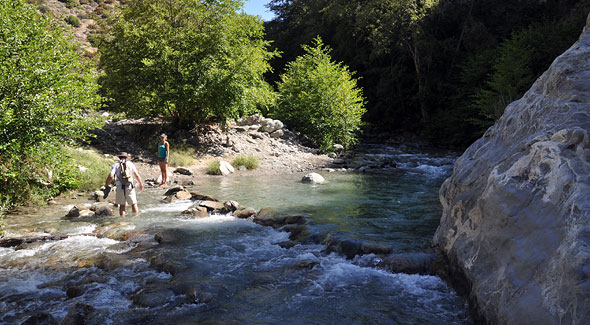 Crossings
San Gabriel Canyon's Bridge to Nowhere is a wet hike, meaning as many as twelve (or perhaps more) water crossings are involved depending on how well you stay on-route.
There is a trail all the way to the Bridge to Nowhere, but the river's tendency to flood every winter means in practice that staying on the trail can be a bit tricky. If you do lose the trail (I certainly did) you'll simply end up trudging up soft sand along one side or the other of the river until you get back on track.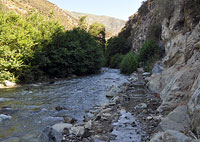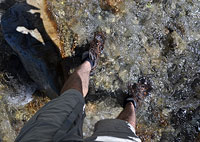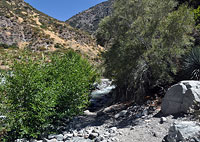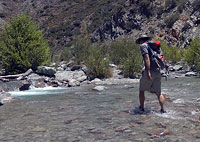 As for the crossings, hikers can choose a variety of strategies, including trying to find alternate crossing points to hop along rocks, taking off shoes and socks at each crossing to stay dry, or just wading across, shoes and all.
Generally on hikes like this your crossing strategy will evolve as the day wears on, and as the preferred method—staying dry—gradually proves more and more futile.
So, save yourself the trouble and just dive right in, I say.
But first, an important safety note: do not attempt this hike in high water!
In Winter and Spring, and also during heavy thunderstorm activity, the river can turn into an angry torrent sweeping away trees, boulders, and anything else foolish enough to get in its way.
Remember the road to Wrightwood?
Ideal times to try the hike are summer when there is no active monsoon in the mountains, and fall and early winter before there is any snow on the higher elevations.
Warnings out of the way, your ideal footwear for the hike is not waterproof boots, which will simply keep your toes soaking in water all day, but rather the lightest, most breathable shoe you can comfortably hike 9 miles in.
A good choice might be something like a Teva or Keen hybrid sandal/boot, paired with light wool socks to keep the sand and grit from bothering your feet. In this way, your feet will get wet but have a chance to dry out again on the trail's dry sections, which should prove a lot more comfortable than squishing in water the whole way.
As for routefinding, it may be helpful to remember that the bulk of the trail lies on the east bank of the river. When forced to do so, the trail cuts across to the western back, but for the most part the trail either is or wants to be to the east. So, if you find yourself wandering a wiggly use trail through brush, it's probably time to figure out how to get back across to the east side.