San Jacinto Peak — Page 3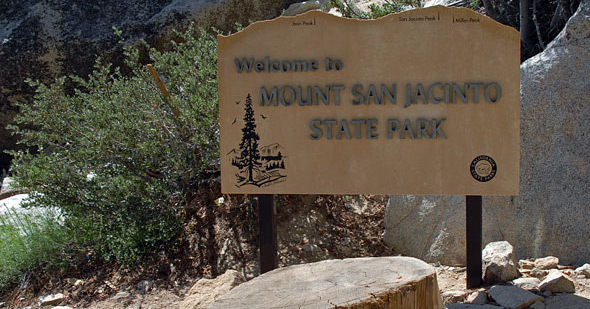 Round Valley
Arriving at the tram's Mountain Station, elevation 8516, my brother and I stepped out into cool air that was rich with fresh pine. Mountain Station features a restaurant, snack and gift shops, and restrooms.
It is also a key access point to several trails, including a short nature loop. My brother an I hefted our packs and hit the trail, following the ample signs pointing toward Mount San Jacinto. Because this is an official wilderness area, backcountry travelers must get permits if they travel beyond the nature loop. These are available for free at the Ranger Station.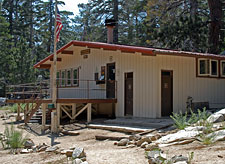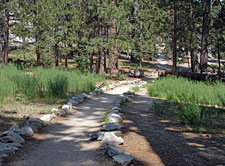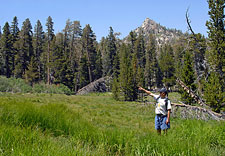 From Mountain Station to the Summit of Mount San Jacinto is approximately six miles one-way, with an elevation gain of 2300 feet.
For hikers looking for a shorter adventure, the Desert View Trail is a 1 1/2 mile loop with outstanding views of the Coachella Valley.
The initial phase of the climb up San Jacinto takes hikers across a series of gentle valleys, traversing alongside a quiet creek.
My brother set a quick pace across this relatively flat section, and I did my best to follow, wondering if he'd slow down at all once we started climbing.
Of the two of us, I was potentially the fitter, but my brother is younger, and he likes to put a kick in his step, so I expected we'd be racing along all day.
We passed many day hikers heading up and down, as well as a surprising number of overnight backpackers.
The San Jacinto Wilderness is a popular backpacking destination, though camping is only permitted in a limited number of areas. Sight-seeing in the Round Valley area is rather limited at first, as you travel flat country through dense forests and glades. The day warmed quickly despite the elevation. I stopped to take some pictures, drink some water, and generally catch my breath.
It was good to be up in the mountains with my brother.
We get few chances to hike together nowadays. There was a time when my brother was a fanatic solo hiker of canyons and deserts, traveling some of the most remote and beautiful lands in the Desert Southwest. At the time, I was wrapped up in my own concerns, unwilling and/or unable to join him. Now our roles seem to have reversed. In any case, it is cause for celebration whenever we venture into the high country together.