San Jacinto Peak — Page 4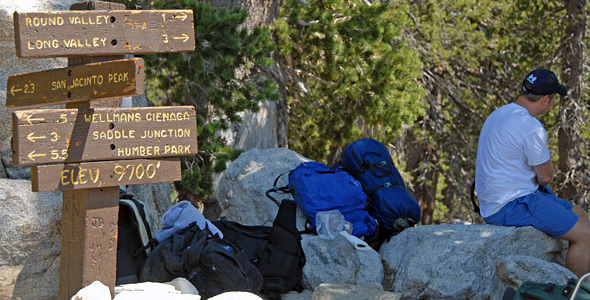 Wellman Divide
Eventually, my brother and I crossed Round Valley, and the trail began to climb. After a quick 700 vertical foot gain, we arrived at Wellman Divide, a spiny ridge overlooking the south side of the San Jacinto Range.
From the Divide, hikers get a good look at how small and isolated the fin-like San Jacinto Range actually is. Seeing the spectacle of the range's north side before us, as well as a large crew of resting hikers, I briefly wondered if we had already reached the summit. No, San Jacinto's peak is still another thousand feet higher. Wellman Divide is however a fine place to stop and rest, which we did.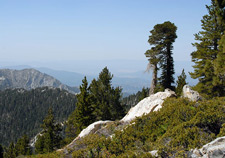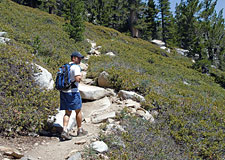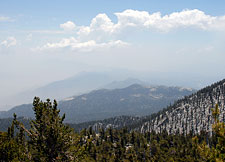 Following the relatively limited views along Round Valley Trail, the wide-open panorama was a refreshing change.
Hemet and Murieta/Temecula lie due West, along with the Pacific Ocean.
To the south are the Santa Rosa Mountains, and the town of Idyllwild, which provides access to Suicide Rock and Tahquitz Peak, favored spots for Southern California rock climbers.
After bartering peanuts for sunflower seeds, my brother and I left Wellman Divide, and soon reached a series of long switchbacks.
Backcountry skiers take note: this east-facing section is a wide-open expanse of rolling intermediate terrain, well deserving consideration.
As we passed above 10,000 feet, I was relieved to see my brother slowing down—at least a little. As a sea-level dweller myself, I notice this to be the point at which I typically find my own performance level plummeting.
The hike up Mount San Jacinto may be short, especially compared to my recent adventures to the north, but it remains a strenuous little climb.
For our efforts, however, we were treated to increasingly expansive views to the east. Much of the north and eastern horizons were veiled with forest fire smoke, but we could now look back toward Mountain Station and Round Valley.
I noticed some cloud buildup to the east, but nothing of concern. Overhead, the sky remained cloudless. The air remained stubbornly warm, easily in the mid to upper seventies, with no hint of a cool breeze. And the switchbacks went on and on, as switchbacks always do.