Island in the Sky
Hiking San Jacinto Peak via Round Valley Trail
SAN JACINTO PEAK — Call it Southern California's Hanging Gardens. The 14,000-acre San Jacinto Wilderness and State Park is a lofty haven of forests and meadows.
Like the Sierra Nevada Mountains to the north, the San Jacintos were formed by powerful fault action that fractured the Earth's crust, thrusting the range's bold northeast escarpment upward—and creating one of the most dramatic juxtapositions of desert and alpine landscapes to be found in North America.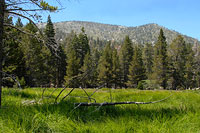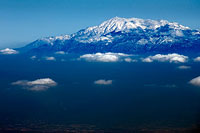 Perched high above Palm Springs, temperatures in the San Jacinto Wilderness average in excess of 40 degrees cooler than the desert floor, providing a welcome escape from the heat in summer, and a fine Nordic playground in winter.
Due to the range's remarkably abrupt rise from the desert floor, author John McKinney (Day Hiker's Guide to Southern California) calls the San Jacintos an "Island in the Sky."
But even that phrase fails to evoke the sheer verticality of the place. San Jacinto Peak's summit lies a mere five horizontal miles from the city of Palm Springs.
Such close proximity has led to the creation of several unofficial "trails", including the Skyline or Cactus-to-Clouds climb, an extreme hike from the end of Palm Springs' Ramon Road, elevation 400 feet, to either the 8516' top of Mountain Station or 10,804' San Jacinto itself.
Thankfully, there is a much easier route to the summit: the Palm Springs Aerial Tram, which gives visitors a 6000 vertical foot boost in a vertigo-inspiring fifteen minutes. However you choose to get there, the view from the top is well worth the effort. Hikers and climbers will find the experience similar to looking through an airplane window...without the plane.
Looking down—seemingly straight down—from the summit toward Interstate-10 some 10,000 feet below, the mind boggles as it tries to contemplate the simultaneous sense of closeness and great distance. On a clear day, the view is a 360 degree feast that includes the Pacific Ocean, the San Gabriel and San Bernardino Mountains, the Los Angeles Basin, portions of Mexico and Arizona, California's High and Low Deserts, and places beyond.