Sandstone Peak — Page 2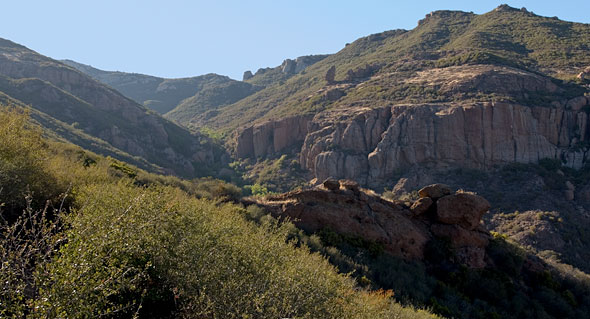 The Mishe Mokwa Trail
You're never far from the city in the Santa Monica Mountains, but they can make feel as if you are far, far removed from the streets of the nearby metropolis—and this is a rare gift indeed for urban dwellers.
From the Sandstone Peak trailhead, hikers briefly join the Backbone Trail—a fire road, really. The Backbone trail is nothing if not efficient, and you'll soon feel your pulse quicken on this immediately steep road. Roughly a half mile farther, the way forks, with the Backbone branching left and continuing its sharp ascent of Sandstone Peak.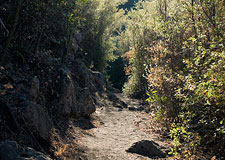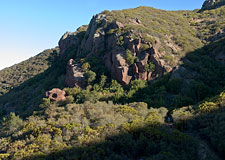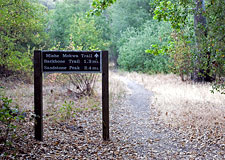 We'll use that route for our descent later today.
But for now, our path goes to the northeast, via the far less hurried Mishe Mokwa Trail.
The memorably-named Mishe Mokwa traverses Sandstone Peak's east flank before plunging into neighboring Carlisle Canyon.
Here the city does indeed seem to vanish, replaced with a remote and rugged wilderness quiet enough to satisfy the most demanding of hermits.
This is certainly not the fastest way to gain Sandstone Peak's summit, but it does make for a meandering loop through surprisingly diverse terrain.
Local rock climbers seem to find a few lines to climb in the region of 'Balance Rock', a prominent feature near the canyon's east rim resembling the mysterious stone statues of Easter Island.
At this point, you may be noticing a suspicious lack of sandstone in the area.
In fact, the entire Sandstone Peak massif (such as it is) is composed of metamorphic rock, from ancient volcanic action—not sedimentary layers. The rock is red, however, and that was apparently good enough for whoever named the place. As the trail works its way along the length of Carlisle Canyon, the brush thickens to the point that cross-country travel is nearly impossible.
Seeing all this bone-dry tinder up close, it is easy to understand why brush fires are such a dangerous phenomenon in the Santa Monica Mountains. The brush does provide shade, however, and this will almost always be welcome.
The Mishe Mokwa continues along in this manner for some two miles, meandering up and down the west side of the canyon, repeatedly disappearing and emerging from the thick chaparral, working its way past interesting volcanic rock formations. Eventually, the trail arrives at a pleasant glade of Sycamores.
This is the Split Rock trail camp, and there is a creek here, though in summer it may be little more than a trickle. In any case, the sudden shift from parched brush to green grass and shady glen forms a rather delightful little oasis at the bottom of Carlisle Canyon—making it an ideal spot for a picnic or just a brief rest.