Sandstone Peak — Page 3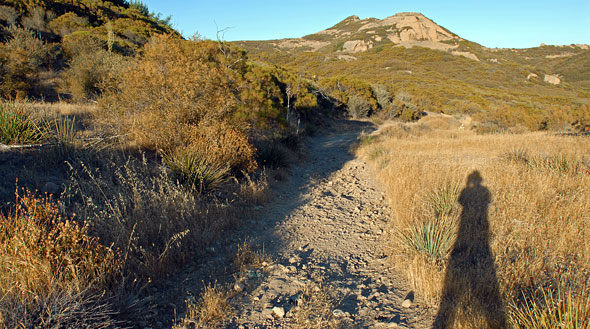 On the Backbone
From the shady sycamores of Split Rock, the Mishe Mokwa Trail climbs out of Carlisle Canyon, gaining a high plain where the late afternoon sun casts long shadows across dry grass.
The junction with the Backbone Trail isn't far, but Sandstone Peak's summit remains a good two miles away. Weary hikers may find themselves wishing they'd simply stayed on the Backbone Trail and long since reached their destination.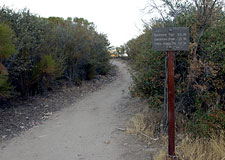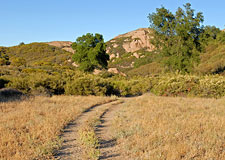 Taking the full loop, however, is not without its rewards.
The dusty Backbone Trail now traverses atop the spine of the Santa Monicas, skirting Sandstone Peak's impressive south escarpment.
We'll be peering over the edge of that high bluff soon enough.
Meanwhile, my plan to arrive at Sandstone Peak's summit at sunset appears to be on schedule.
To the north, the hazy lowlands of Thousand Oaks and Simi Valley—populated to the gills with suburban sprawl—await the coming dusk.
Southward, I see the blue waters of the Pacific running off to infinity.
Here and there along the Backbone Trail sprout lesser volcanic summits, each worthy of exploration: Tri Peaks, Exchange Peak, and Boney Peak.
But the sun is hot and the day long.
I'm eager to get there, already, so I push my pace a bit and march through the alternating thickets and plains toward the high point of the Santa Monica Mountains.