Sandstone Peak — Page 4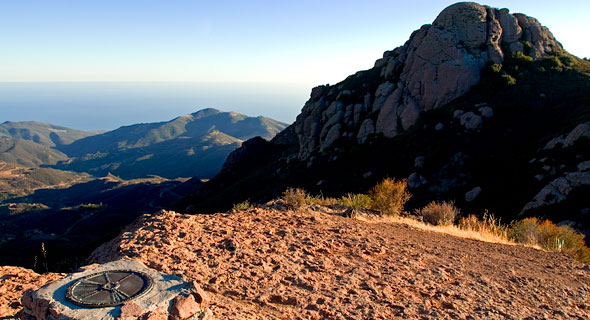 Inspiration Point
A mile or so up the Backbone Trail, I come to an innocent-looking sign advertising the way to 'Inspiration Point', elevation 2800'.
This technically is not on the day's agenda, but I've a mind to be inspired, so I detour through an innocent-looking thicket that gives way to a sudden, sweeping vista. Inspiring? Indeed.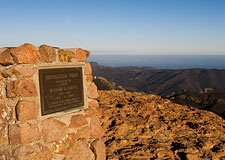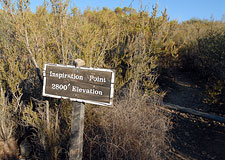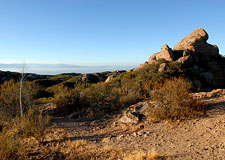 This may be the marquee view of the entire hike—orange, glowing rock contrasts with the blue Pacific, while the foothills below settle into the deepening shadows.
Here atop the point is a understated monument built in memory of a young scout who perhaps once stood upon these same rocks and watched the sun drop beneath the Pacific.
The stone pillar features a compass at its top pointing to various visible features in the Southern California region, including the San Gabriel Mountains.
The colors in all directions have grown bright and vivid, happy fodder at last for my camera.
Seen at high noon, this same landscape can appear as drained as a faded photograph, the victim of the interaction of coastal humidity and Southern California smog, which flatten the light.
Now, as the day's end draws near, everything seems alive.
This is a welcome sight for a transplanted Arizonan, used to the nation's purest, most photogenic light.
In this moment the Santa Monica Mountains reveal their oft-hidden beauty. It is a small miracle, perhaps, to be standing here so close to Los Angeles, enjoying a sunset in the wilderness.
But it is a miracle nonetheless.
I could easily remain here at Inspiration Point past sundown, but Sandstone Peak's summit beckons. What new sights will it offer, I wonder? I don my backpack and return to the Backbone Trail.