Sandstone Peak — Page 5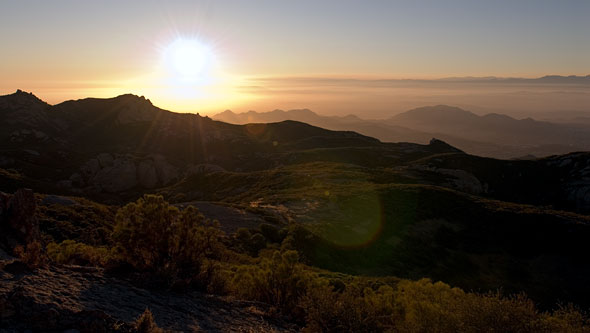 Sandstone Peak
Here is my recommendation: bring a date. Sandstone Peak's modest but well-placed summit may be among the best places in Southern California to watch the sunset.
Equally important, when done via the Mishe-Mokwa Trail, the hike is long, hot, and tiring. If you and your partner are still on speaking terms when you arrive atop the mountain, you may well have found yourself a keeper.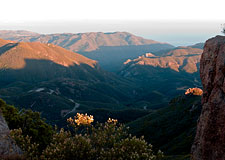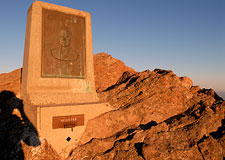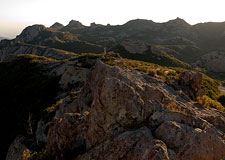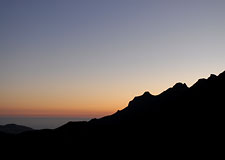 It has been a long, dusty hike, and I am quite happy to arrive at last at the last short scramble that leads up to Sandstone Peak's summit.
The 3,111' top of the Santa Monica Mountains is home to an imposing monument which informs me I've reached the top of 'Mt. Allen'...
What, you say??
Ah, those plucky Scouts!
In the 1960's, the Boy Scouts sought to honor Circle X benefactor Herbert Allen by renaming Sandstone Peak.
They were thwarted, however, by the U.S. Department of the Interior, which cited its policy prohibiting naming geographic features after living persons.
In their enthusiasm, the defiant Scouts held a dedication ceremony anyway, capped with a impossible-to-miss monument.
The obvious solution—tossing Mr. Allen from Sandstone Peak's exposed summit—apparently did not occur to anyone.
In any case, we can be happy the Scouts chose not to rename any other nearby summits. Meanwhile, after its slow journey across the sky, the sun seems now in a hurry to reach the horizon.
The rock shifts abruptly from orange to red, and haze across the valleys below seems to thicken. I perch myself on the spiny summit, feet pointed toward the 100' precipice of the south escarpment, watching the day come swiftly to a close.
The sun drops beneath the horizon, and the lights of the surrounding city begin to make themselves known. I find myself wondering what the view might look like at night, when the lights and city glow are at full strength.
But that adventure will have to wait for another day. I'm ready to head back down, via the quick Backbone Trail. It's scarcely a mile to my car, and I jog most of it, pounding down the steep fire road in the deepening twilight. The air remains warm as I descend, leaving this enchanting island of wilderness to return again to the immense jungle of the city.