Sandstone Peak
Finding Inspiration atop the Santa Monica Mountains
LOS ANGELES — For most Angelenos, the Santa Monica Mountains are perhaps best known as the ever-present, indistinct brownish hills on the city's horizon—an airy realm of mansions, wildfires, and mudslides.
Preservation efforts, however, plus the terrain's natural ruggedness have left considerable pockets of unspoiled wilderness in the Monicas. According to the National Park Service website, the Santa Monica Mountains National Recreation Area is the world's largest urban national park. Traveling from east to west, the Santa Monicas include Griffith Park and the Hollywood Hills, Beverly Hills, Bel Air, Topanga Canyon, and Pacific Palisades.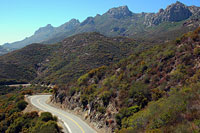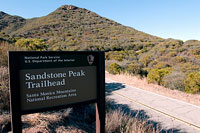 Inextricably entangled with the vast Los Angeles Metropolis, the range eventually terminates at Malibu and the shores of the Pacific.
The highest point in the Santa Monica Mountains is 3,111-foot Sandstone Peak, part of the Circle X Ranch.
Perched over Malibu and the Pacific, the peak features expansive views, making it a fine getaway from the constant rush of the surrounding city.
The surrounding Ranch was purchased in 1949 and given to the Boy Scouts (more on these enterprising souls to come).
Today, Circle X Ranch is part of the National Park system, with a small visitors center, a campground, and an extensive network of easy hiking trails. Unlike other parts of the Santa Monica Mountains, most of these trails are closed to bicycle traffic. This, plus the region's somewhat out-of-the-way location help keep the trails quiet, if not deserted.
Hikers can expect warm temperatures any time of the year. The Santa Monicas' climate is classified as 'Mediterranean', which translates to long, hot summers and mild but wet winters. Paired with a thousand vertical foot gain, that can make hiking Sandstone Peak in mid day uncomfortably warm.
Summer visitors in particular are advised to schedule their visits in the early morning or late afternoon. As an added benefit, hiking at these times treats visitors to the best light. At lower angles, the sun adds much-needed contrast to the often hazy Southern California sky, transforming a faded, sun-burnt landscape into a vivid palate of color and shadow.