Telescope Peak — Page 2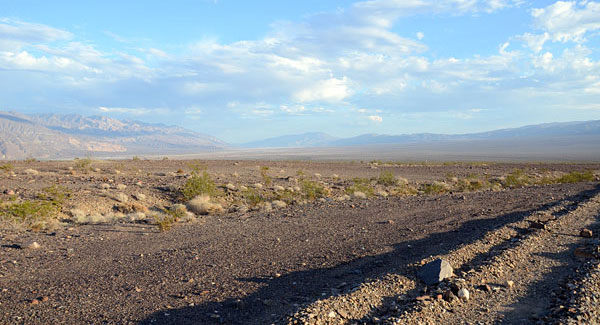 Panamint Valley
Getting to Telescope Peak involves a fair degree of adventure in its own right. Bring a good map and maybe even a GPS unit. Both will surely come in handy once you leave the straightforward corridor of Highway 395.
Coming from Southern California, Trevor and I follow a series of remote roads eastward, discovering a vast and desolate hidden landscape that makes Owens Valley seem positively cosmopolitan in comparison. Telescope Peak's seemingly-modest outline appears abruptly as we drop down into Panamint Valley.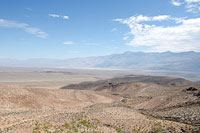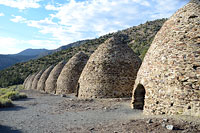 We pull over for a moment at a viewpoint along the valley's rim. Hot air greets us as we hop out of the air-conditioned car. It's the first time I've ever seen Telescope Peak.
Lying just within the western boundary of Death Valley National Park, the mountain forms the eastern boundary of Panamint Valley, rising indeterminately high above the hot flats below.
How big is it? It's hard to say just by looking, but a check of the map indicates Panamint Valley is somewhere around a thousand feet in elevation. That means we'll be climbing over 7000' just to reach the trailhead.
Back on the road, we slowly cross Panamint Valley. Telescope Peak's enormous rise becomes more apparent as we draw closer to the base of the mountain. We find the initially-paved Wildrose Road, which will take us into Death Valley National Park and high into the Panamint Range. The sense of remoteness in this part of the state is nothing less than surreal.
But for the road, there is nothing of civilization to be seen in any direction. Without a working vehicle and a good supply of water, you'd be in trouble here in a hurry. Up the road we go. Pavement alternates with gravel for a bit, then the pavement is gone, leaving a rough but partially-graded route that winds ever-upward through the rugged narrows of Wildrose Canyon.
The rich palate of colors in the surrounding rocks suggests we're in mining country, and soon we discover that is indeed the case. We pass the impressive historic structures of the Charcoal Kilns, which were used more than a hundred years ago to produce charcoal to fire two smelters at nearby silver and lead mines. Next stop: Mahogany Flat, and the trailhead to Telescope Peak.