Telescope Peak — Page 3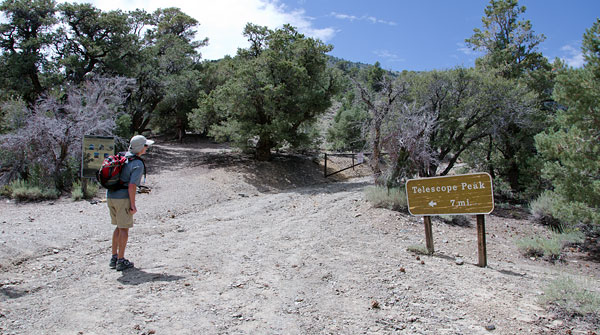 Mahogany Flat
Pulling into the parking lot at Mahogany Flat, Trevor and I find a waterless and fee-less campground. We hop out of the car and spy a few promising peeks of Death Valley through the trees beyond.
The weather looks reasonable: blue sky overhead with a few patches of wispy white clouds; no wind. Though the air is pleasantly cooler, everything about the area suggests extreme aridness—the scrubby Pinyon Pine forest, the dusty, barren ground. Like the White Mountains, the Panamints don't appear to get much annual precipitation.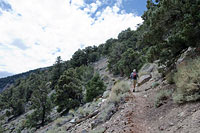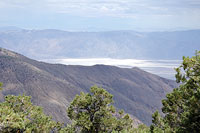 The overriding impression of our trailhead perch is one of airiness: the north-south range drops precipitously down into Death Valley to the east.
Similarly, behind us is the vast drop to Panamint Valley. Though partially blocked by the treetops, those drops already suggest the view from an airplane window.
We hit the trail, which winds its way along the east side of the ridge, giving us increasingly fine views of Death Valley and Badwater. Especially notable are the colors emerging from this interesting juxtaposition of landscapes.
The chalky-white flats of Badwater contrast dramatically with the orange and purple hues of the Amargosa Range beyond, on the eastern side of Death Valley. As the trail traverses around the southeast side of Rogers Peak, the views continue to open. Both Trevor and I are pushing the pace, as if motivated by the ever-expanding sights. Soon, I find myself gasping in the high mountain air, heartbeat pounding in my ears.
What's our elevation right now? Just over 9000 feet. My peak fitness level from the past winter is apparently just a memory, now. Still, the trail's angle is easy enough, and the temperature is pleasant. Overhead, thin and intermittent clouds continue to gather, providing welcome shade from that fierce Southern California sun. A fine day for hiking.