Telescope Peak — Page 4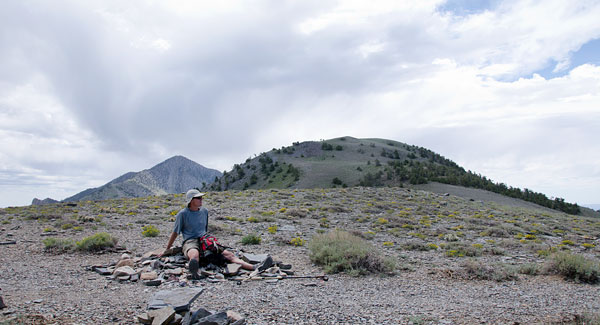 Arcane Meadows
Atop the saddle between Rogers and Bennett Peaks is the intriguingly-named Arcane Meadows, elevation 9640'. Here begins the long ridge to Telescope Peak, which is perhaps another four miles distant.
Arcane Meadows offers us a flat spot to rest as well as a fine perch from which to admire our first true views of Panamint Valley, to the west, and the great Sierra beyond. I drop my pack, fish out my camera, and look around. Of course the Sierra captures my attention first. Yes, it's a little hazy over Owens Valley, but I can clearly identify the big peaks nonetheless.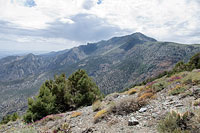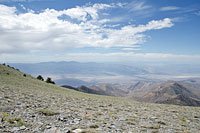 Trevor and I consult briefly as to which is Whitney, and which is Langley. From this angle, both have a similar shape, and both tower over their respective neighbors.
Also interesting, from this perspective, is what appears to be a great V-shaped gully between Whitney and Russell. It's fun—and challenging—to try to identify Sierra Peaks from this distance.
Behind us, to the east, is the rugged country of Hanaupah Canyon, plunging down, down, down to Death Valley. And this view deserves a bit of special mention.
You see, in winter, Telescope Peak gets snow.
And naturally, I've already begun contemplating skiing this mountain. The road to Mahogany Flat is closed in Winter, but the lower part remains open as far as Charcoal Kilns, offering one avenue of access. But there is another possibility: rumor is there exists an established hiking route from Shorty's Well up Hanaupah Canyon to Arcane Meadows and Telescope Peak beyond.
Now, if the thought of hiking with skis from Badwater to Telescope's summit strikes you as a little off kilter, you've probably just safely passed a quick and dirty sanity test. I, however, have apparently failed that test myself, as I find myself looking down that vast distance and wondering...what if? Would I do such a thing? Could I do such a thing? I file the idea away for future contemplation...