Telescope Peak — Page 6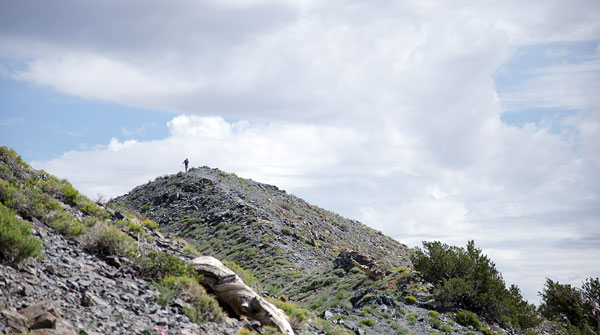 Highs & Lows
Somewhere on the last hundred yards or so along Telescope Peak's summit ridge it hits me: I haven't even reached the top yet, but this is already one of my favorite mountains.
The views! The crazy, mind-bending views! Look here: to the west is Panamint Valley, a drop of some 10,000+ vertical feet. If that's not enough for you, turn to the east and gaze now at the alkaloid sands of Badwater, Death Valley, elevation -283 feet, lowest point in North America—currently some 11,331 vertical feet below us.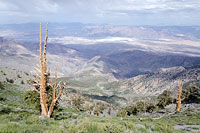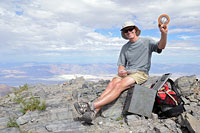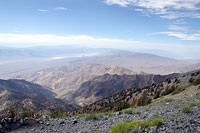 My mind boggles as I try to process these vast numbers, this remarkable juxtaposition of alpine and desert worlds, all of it focused here at Telescope Peak's modest ridgeline summit.
Part of what makes it all so wonderful is the fact that we enjoy unrestricted views in all directions. Telescope towers above the surrounding landscape almost as far as the eye can see.
In its expansiveness and totality, the view reminds me of the sights atop Mount Shasta. But Shasta does not share such scenic neighbors as Death Valley, nor the High Sierra.
In the narrowness of the summit ridge, and the dramatic opposing views of Death Valley and Panamint valley, the view reminds me of the sights atop White Mountain over Bishop.
But White Mountain's westward look is dominated by the big peaks of the Sierra, and the eastern view shows us mostly only the barren interior of central Nevada.
No, this perch atop Telescope Peak is indeed something unique among California mountains. After a time I remember to begin taking pictures of these magnificent views, though I know they will each of them fail to capture the grandeur of what I'm seeing here in person. Finally, I shoot a short video clip, rotating 360° to show as much of the panorama as possible. Will even this video be able to bottle some of the magic I'm seeing? I hope so.
The clouds, I'm happy to say, have cooperated today—collaborated, even, you might say. Without the clouds, and their many shadows, the landscapes would not be nearly so arresting, the colors not nearly so vivid. Happily the feared storms have not materialized. Overhead now is bright blue sky. On the horizons distant are nonthreatening white puffs, building and dissolving according to their own unknowable rhythms. Perfect.
What now? Let's stay a while. The wind is calm. The air is pleasantly cool. The canvas about invites long lingering gazes rather than hasty glances. Will I be back here again someday? I hope so. Not all places are worth revisiting, I know, and there is only so much time even for those that are, but I have a feeling I'll be back. And until then, the photos will have to do.