White Mountain — Page 3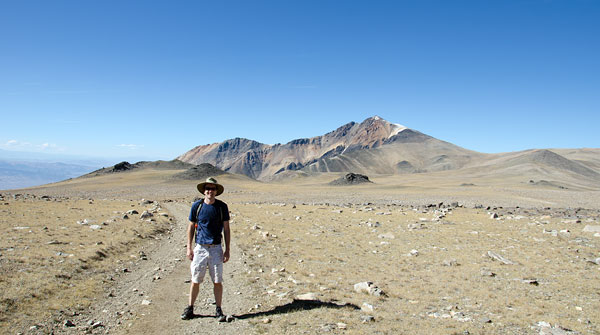 McAffe Meadow
Just past Barcroft Station the trail/road crests a rise, and the vast plateau of McAfee Meadow appears, with White Mountain Peak looming on the north horizon. This is indeed a strange, austere landscape. 'Arid' doesn't really do justice to the place.
Let's call it preternaturally dry: not too far removed, maybe, from the surface of the moon. One source says this is the driest air measured on Earth. White Mountain reportedly receives most of its moisture, such as it is, in Winter. Summer thunderstorms are not unheard of, and White Mountain does have a reputation for sudden and very nasty storms, but clearly there is no monsoon season to speak of.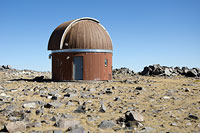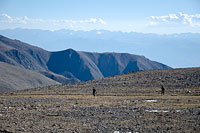 This bone-dry weather comes with a number of consequences, including, surprisingly, diversity of flora. White Mountain's unique and localized climate reportedly houses over 200 species found nowhere else in California.
The most famous of White Mountain's plant life is no doubt the Bristle-cone Pine tree.
Located principally in two groves a few miles back down White Mountain Road, these trees are themselves the subject of study and research, and are said to be among Earth's oldest living creatures, with some trees' lifespans exceeding 4000 years.
Here on the McAfee Plateau, however, there are no trees. Just dull yellowed grass and an inexplicably large population of rabbit holes. Perhaps the coyotes have never bothered to venture this far up the mountain. Given that they can't use the road and motor vehicles to get up here, as we did today, I say it's understandable.
With White Mountain's extremely dry climate and its very high elevation, you would think this an ideal location for an observatory. In fact, there is a lone and rather decrepit observatory tower nearby, but nothing like the state-of-the-art facility found atop Hawaii's Mauna Kea. Why not here? The answer seems to be weather—winter access, via the long, high-altitude White Mountain Road, is too problematic.
Meanwhile, White Mountain's south face remains stubbornly distant, despite our best efforts to put some kick in our steps. There are inspiring views to be had of Owens Valley and the Palisades to the west, but crossing this broad flat meadows proves to be no small grind, especially as the altitude continues to wear away at us.