White Mountain — Page 4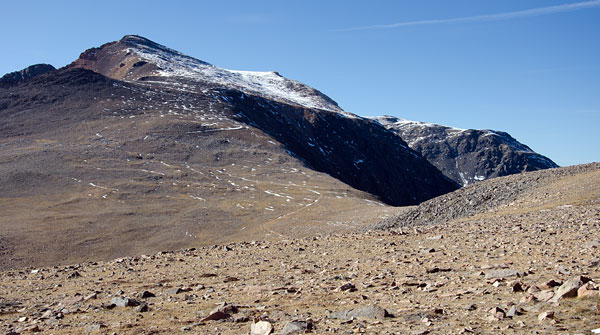 The South Face
At last we cross the meadow. The road here drops a bit, giving back precious altitude before climbing aggressively via a set of long switchbacks up the south face proper of White Mountain Peak.
From the saddle at the base of the south face Trevor and I speculate as to our present elevation, wondering how much higher we have to climb. The truth is we're at 13,000 feet right now, leaving us a little over a thousand feet to go. Though the road goes all the way up, that last thousand, of course, will not prove to be easy.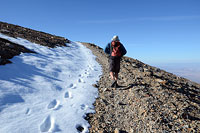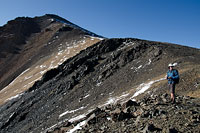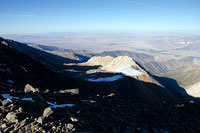 The story of the moment is snow. This is not left-overs from last winter, it is fresh snowfall, perhaps only a few days old, and several inches deep.
The snow is a welcome sight to this skier's eyes, but it also makes for a bit more of a challenge in my running shoes than I was expecting.
Lengthening shadows, meanwhile, indicate that we've been hiking for a while, now. What time did we leave the car? It's nearly five o'clock now.
We're still pushing the pace up this hill, but I'm more than ready to reach the summit and put today's climbing to rest.
As we wind up the right-hand side of White Mountain's south face, we are at last treated to views of Nevada, to our east. The vertical relief in that direction isn't quite as high as the nearly 10K gain to our west, but it's still significant.
From this vantage point, you can clearly see that White Mountain is a great fin of a hill, a longish north-south ridge that drops aggressively to either side. As the shadows push eastward into Nevada, the colors come out. Rich dark hues streak the rocks, and the sky deepens. Though the summit hut atop White Mountain is now clearly visible, it stubbornly refuses to get any closer.
A bit of a wind has kicked up. The air feels colder. My legs, bare to the wind, begin to get sluggish. Have I been drinking enough water? I'm definitely hungry. I pull my gloves from my pack, and I also take a moment to stuff some snow into my water bottle to replenish my water supply, gasp a few deep breaths of crazy dry thin air. We've got to be getting close, now.