White Mountain — Page 5
The Great Divide
From atop White Mountain's summit, elevation 14,242', it's strikingly evident how sharply the range rises to either side, east and west, splitting the surrounding landscape like a great dividing line.
5:42 p.m. It's cold and I'm tired. Though I've mercifully been spared a headache thus far, experience is telling me that our stay atop White Mountain today is best kept short. Trevor and I pile on all our remaining clothes and then find a sunny perch against the summit shelter's west side to enjoy a short lunch break.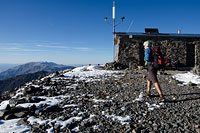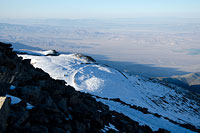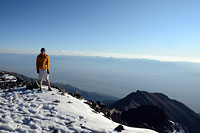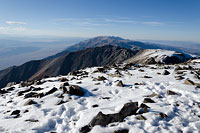 We've arrived at the summit just as the light seems to be growing more angular. The sun hangs low over Owens Valley and Lake Crowley to our east, backlighting the haze above Bishop.
I eat my meager snack lunch, glad the wind isn't blowing. It sure feels like winter is coming.
With my camera in-hand, I make a slow circle around the summit shelter—actually a high-altitude research laboratory, part of Barcroft, closed to hikers.
To our east, dark shadows push deep into Nevada, like outstretched fingers. Far, far below, the desert glows bright in the late-afternoon sun. Still hot down there, I bet, in contrast to the crisp air up here.
The snow in the shadows is developing a noticeable crunch beneath my feet. I continue wrapping around the summit, now looking south toward the Inyo Mountains.
A little turn westward and there's the Sierra, with the range's big peaks just barely visible but still recognizable on the horizon.
Like Telescope Peak to our south, White Mountain's summit offers a dramatic and unobstructed 360° panorama. East-to-west, the entire range is a slim 15 miles across.
The day seems to be fading a bit faster than expected. I confer with Trevor, and he agrees it's time to head back down. We'll be hiking back to the car in the dark, I realize. That probably means it's going to get a lot colder, though the upside is we'll enjoy a no-doubt unforgettable show of colors as the sun fades beyond the western horizon.
I take a moment to lace up my trail runners, tight as I can get them, for the hike downhill. That headache seems to be ready to bloom, now. Have I been drinking enough water? I pull out my water bottle for a last swig, noting that there's still snow sloshing around inside. The rocks to our east are starting to turn orange in the late sun. I snap a last few photos, and then we're off.