White Mountain — Page 6
Sundown
Seven miles to go above 12,000 feet. Trevor and I push the pace down the trail, not quite racing, but wanting to get as far down the mountain as possible before darkness sets in.
The sun seems to be in a bit of a race of its own, crossing the last gap of sky above the horizon with considerable alacrity. My headlamp, of course, is sitting in the car. Days are getting shorter, I tell myself. Will there be a moon tonight? I don't think so—at least, not soon enough to be helpful.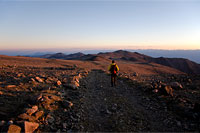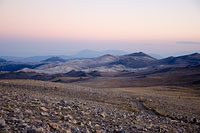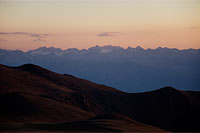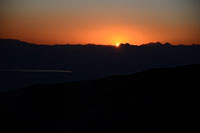 But still, it is inarguably a pleasure to be here, now, watching the sky change as the sun begins to kiss the horizon. The light takes on an electric, pinkish quality, raking across the land like some kind of radioactive death ray.
Where that great beam touches everything seems to freeze, motionless, caught in its grasp.
All around us, this previously flat landscape erupts with texture, contours and features emerging as if coming to life. Meanwhile, as the sun's last beams grow sharper, the shadows grow darker, beginning to assert their control over their land.
I stop, turn my face westward, and watch that last sliver of sun touch the tips of the Minarets. Below, Lake Crowley gleams in the distance.
Just a bit south, the snow of Palisade Glacier catches the light. To my surprise, I can clearly see it with my naked eye, as well as the narrow gully of the U-Notch Couloir.
The sun drops below the horizon. The colors begin to fade from the sky. Time to get moving, again. How many miles more to Barcroft, the gate, and the car beyond?
I catch up to Trevor.
Like me, he's been admiring the very same show. It's always easier (and safer!) to time your hikes to correspond with maximum daylight, I know, but there is also a reward to be had by venturing out in the backcountry when the sun isn't atop the sky. Of course, now we'll be pounding the trail well after dark, in the quickening cold, to get home. But, today at least, it's been well worth it.
And as the day continues to darken, it feels like the end of a short summer hiking season, for me at least. Most of my other hiking and climbing plans will have to pushed back to next summer. But that's okay with me. Fall is here, and winter is fast approaching. I'm ready for it...