Dynafit Freeride Aero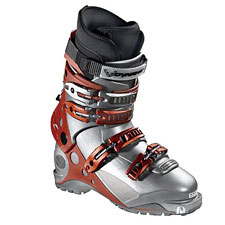 downhill-oriented
lethargic, clunky feel
dynafit binding compatibility
8lbs 6oz/pair
Dynafit released the Freeride Aero for the 05/06 season, aiming to capture the growing market of backcountry skiers who want an Alpine Touring boot capable of driving today's bigger, heavier, wider 'freeride' skis.
Dynafit's innovative and ultra-light bindings must be considered one of the engineering marvels of the A/T world (if an extremely quirky marvel), so I had high hopes for the Freeride Aero. Could Dynafit produce a boot to rival—or even best—the Garmont Mega Ride? The answer, for the moment, seems to be no.
The Freeride Aero makes its first impression right out of the box: it's heavy! A pair of size-27 Aeros weigh a portly weigh 8'6" on my scale. Compared in-hand to the Garmont Mega Ride, the Aero's extra weight is glaringly obvious, at nearly a pound extra per boot. In fact, you may think you've picked up your Alpine boot by mistake.
Perhaps it's best to think of the Aero as a light Alpine boot with a walk mode, rather than a heavy A/T boot. The saving grace of the Freeride Aero may be its Dynafit binding compatibility. If you're using a Dynafit binding, you're saving around two pounds per foot in weight, making the Aero's extra bulk less of an issue.
And, to be fair, there are very few Dynafit-compatible boots available with this degree of stiffness. How is the Aero's downhill performance? I found the Aero noticably stiffer than the Garmont Megaride. Compared to a true Alpine boot, the Aero to my mind has a solid but sluggish feel. The boot lacks the liveliness and quickness of either a good Alpine model, or the Garmont Mega Ride.
The Dynafit is a medium-to-high volume boot. My medium-to-narrow foot swam around in the boot and would certainly require expert shimming for a good fit. Compounding this feeling of slip-sliding is an smooth plastic sheet which sits beneath the liner.
The plastic inset is slightly smaller than the shell, allowing it to slide a mm or two back and forth beneath your foot. If you're sensitive to such things, this movement will seem positively scandalous. I'd recommend sanding both sides of the shim and then gluing it in place.
On the subject of fit, the Dynafit ships without a footbed. Presumably, this is because most of us will get custom footbeds anyway. However...the Dynafit has quite a bit of arch built into the shell's sole, which 'high-centers' your foot. This will certainly make creating the footbed a chore, as the boot does not offer a flat sole for the footbed to rest upon.
This unwanted arch seems inherent to A/T boots, which are designed not just for skiing but also walking, necessitating a rounded sole. Again, however, the Dynafit's last is worse than the Garmont's. Adding to your annoyances, the boot's power strap is positioned such that it gets stuck between the liner and the shell every time you put the boot on. Ah well, I suppose it builds character. *(discontinued)