March 28, 2009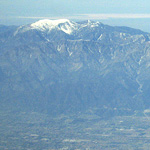 Mount San Antonio
Mount San Jacinto
Hopped a flight to AZ yesterday, en route again to Colorado for a little fun. I got a chance to snap a few photos of the Southern California mountains to check snow conditions.
Things look pretty burnt.
Baldy Bowl is starting to look bare, even above the Ski Hut, though I'm sure there are still a few good snowfields to be found. Interestingly, the South aspects between the two summits still look terrific.
Gorgonio has snow, and presumably the north aspects are still in good shape on both mountains. Our flight took a sort of angle over San Jacinto. Didn't get a chance to see the Snow Creek route (north facing), but I got a great view of Round Valley and the east face.

ANDY LEWICKY is a Los Angeles-based writer and photographer who enjoys good books, jasmine tea, long walks in the rain, and climbing and skiing the big peaks of the California Sierra. email | follow