February 7, 2010
The San Jacinto Report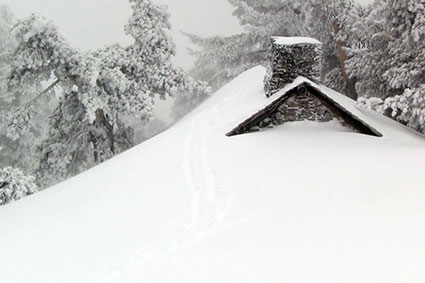 Maybe one of the things to remember about an El Nino year is that the storms love to ambush the Southland. I don't think anyone was expecting the rain intensity we saw Friday through Saturday morning. I certainly wasn't. Saturday I drove to Palm Springs, figuring the tram would get me to snow with the least amount of winter driving. That was true in only the most technical sense: the drive itself proved to be the day's biggest adventure, with rainfall between the 15 and 215 freeways entering the awesome and frightening range.
In hindsight, it would have been a good day to stay home.
The other factoid about El Nino winters that occurred to me as I was watching accident after accident unfold along the freeways, and listening to continuous coverage of homes being washed away by mud on the radio, is that there is such a thing as too much rain. As much as I love seeing snow blast the mountains, these storms impact others in much less happy ways. And getting to the snow, for most of us, can become impossible.
Up high, the storm came in much wetter than I was expecting. It was cold at my home in the basin. I'm not sure why snow levels were up around 8000'—maybe partly because the storm picked up so much moisture; maybe partly because the upper atmosphere was just very dynamic. Under these conditions you expect to see a lot of hail, pellets, and/or graupel, and that's exactly what we did see. Note that graupel may well be one of the biggest threats to SoCal backcountry skiers, because it can be extremely localized (ie, hard to find), and buried beneath a foot or two of heavy wet snow, it makes an ideal weak layer for slab avalanches.
The graupel threat is probably short-lived—I don't believe it's considered a persistent weak layer—but with another large storm on the way Tuesday, do be aware that it's out there. In addition to the graupel we saw a very prominent rain crust deeper in the snowpack around 10,000' in elevation on San Jacinto's east face. The crust appeared well-bonded to the new snow, but the hardness difference both above and below was alarming. Within the new snow, a weak layer about 8" down (probably graupel, again) led to easy failures in compression tests. Reactivity was generally low, which, along with our descent route's 25-30° angle gave us cautious confidence that the skiing was safe.
Still, when we neared San Jacinto's summit on our ascent, we flirted just a hair with the edge of a northeast aspect, where we immediately saw cracks propagating. Snow Creek climbers/skiers beware. As for the skiing down the east face, the highlight was definitely skiing off the roof of the Civilian Corps Shelter (summer photo is here), which is nearly buried in snow. The snow otherwise proved very grabby on the way down, skiing much like a breakable crust. I guess three weeks in a row of smooth powder was a little too much to ask of Southern California.