Last Days at Baldy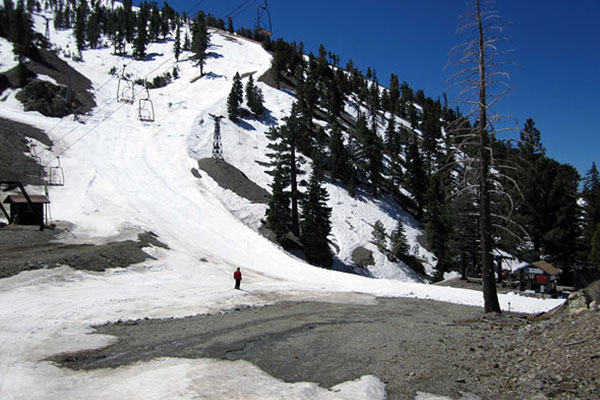 Looks like this weekend is it for skiing at Mt. Baldy resort. I was there yesterday to enjoy one last day on my pass, closing out what has been a surprisingly strong year at the always-quirky Mt. Baldy ski area. Rumor is Mt. Baldy got a double cash infusion this past season, first from a new investor, and then from the sale of those variously priced Chamber of Commerce passes.
On the subject of the cheap passes, I will say I definitely got my money's worth out of mine, though the limited quota and long wait times to pick up a ticket were always annoying. Going ahead next year, they raised the prices considerably on the CoC passes without addressing any of the ills. That was enough to keep me from pulling the trigger again, though I probably will buy a physical pass at some point down the road for next season.
Skiing yesterday was warm and quite good despite the late date. As you'd guess from the photo, things were not exactly busy up there. I must say I really enjoy skiing Baldy. Aside from the (occasional) weekend crowds and ancient machinery, you just can't argue with the area's in-bounds and slackcountry terrain. But seriously: those chairlifts do terrify me.
The worst is chair 2, which rises way too high for a lift that old. I have sort of a mental limit when it comes to chair height. Below a certain height (20'? 30'?), I figure I'll eventually recover if I fall. But when you're up a hundred feet or more, there's no fooling yourself. I try to go to my happy place and imagine that all the chairs are inspected regularly until the ride is over (which would be easier if you weren't sitting on rotten and/or missing wood slats). Then again, if they did replace the lifts with modern quads, the place would probably be bankrupt in matter of weeks. So, I figure we're stuck with the vintage lifts forever. Get up there and ski it if you can—tomorrow's the last day of the season.
Andy Lewicky is the author and creator of SierraDescents