Southern California Dreaming (Reprise)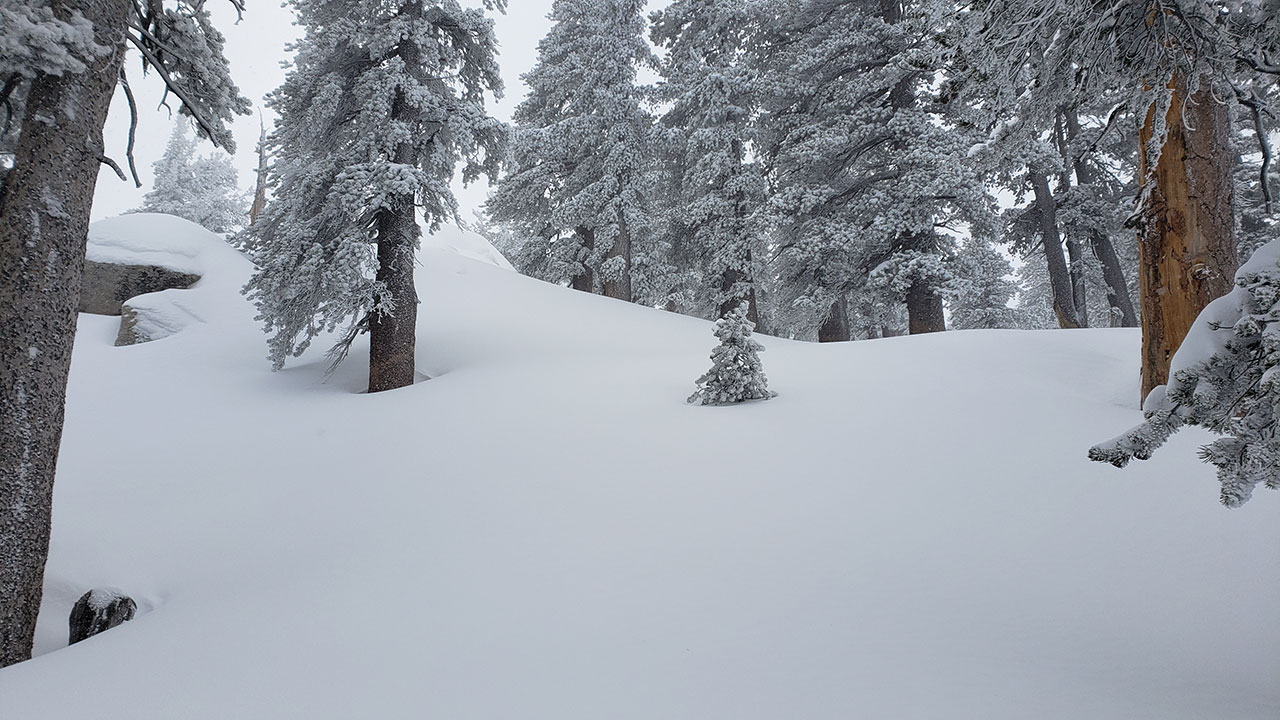 Motivated by forecasts of ultra-low snow levels and dreams of cold-smoke glory, Trevor and I returned yesterday to the San Jacinto Wilderness to reprise our 2012 Southern California powder skiing extravaganza.
Seven long years have passed since that magical day.
Here in the present, we found ridiculously deep but unfortunately dense snow above the 10K-foot level. There's something weird going on. Weather was cloudy with snow flurries all day; temperatures were in the low 20's at the Tram station and likely teens at higher elevations.
Yet the snow was dense, dense, dense, even in wind-protected areas, despite being ultra-fresh. My guess is these SoCal storms are just coming in with a great deal more moisture than they used to. Are we seeing super-saturated air, even above 10,000 feet? I don't really understand it.
In any case, I'll estimate there is easily six to ten feet of snow on the north faces of our SoCal high peaks, enough to have us skiing well into May, if not further. And getting out yesterday and stomping around in the storm was an absolute joy, even if the snow was instantly consolidated.
No Reggae music for you this time, but we do have a 2019 video for comparison purposes. Hopefully it won't be seven years 'til we make another. Local resorts/Mammoth lots of snow blah blah blah now go get out there!
Andy Lewicky is the author and creator of SierraDescents
Charles February 6, 2019 at 11:29 pm
Fantastic! This is the news we live for! Sounds like a good year for a Palm Springs to Shasta CA ski odyssey. I wonder when that snow will corn up??
Dan Conger February 7, 2019 at 2:19 am
Going to try to hit Squaw Valley here in the next couple of weeks, work schedule permitting.
Joshua February 7, 2019 at 5:19 pm
The skiing was gorgeous yesterday in the Waterman area. Cold snow all day long on sheltered aspects. A rare SoCal treat. Get it today before it warms up!
Brad Brown February 7, 2019 at 7:14 pm
Snow quality has perplexed me for years. Even in the 70's and 80' my internal weather/snow quality algorithm would predict cold smoke only to be confused by actual. Temps in the teens rarely lie but low 20's can. While the drought years sucked, southern moisture can be awesome, has a long history (see California great flood 1861-2), and can provide outstanding base for a long spring season. My experience is Feb/March are the peak months for quality SoCal pow but my son and I rocked a mid April 2012 16" SS day so it's all at mother nature's whim. This is all made somewhat predictable by estimated temps and storm origins-typically Gulf of Alaska or "wrap around" events which have left LA dry and 12" Big Bear. More to be revealed meteorologically this season!

Note to Dan, remember what Warren Miller used to say "work is for people who don't know how to ski", get after it. recommend Kirkwood!
Bill Adams February 12, 2019 at 7:26 pm
Spent the weekend at Big Bear and was surprised that the snow came down as corn rather than flakes. Nevertheless, Monday at Summit was pure joy. Won't be back in the BC until my sons are old enough to accompany me. Just made a decision (prolly during the drought) that any recreational spare time I could free up would be focused on them. And it's paying off I think. My 13 year has developed a love for trees - started at June Mtn. last spring. And my 10 yr old likes it steep and fast. Yesterday, we were searching out every little bit of snow in the trees we could find. Gawd, Baldy must have been y-day.
Joseph Chun February 12, 2019 at 10:25 pm
I plan on going to San Jacinto peak this saturday and snow boarding down. Do you think the conditions will be good?
Andy February 14, 2019 at 1:15 am
Sat weather looks pretty good. May be gloppy lower if the sun is out. I would think the east face would make for good skiing. You may have 5 feet of fresh snow, but probably on the wet side.

Hope none of you got stuck in the Baldy road fiasco last Sunday. Took one of my friends 11 hours to get down the road!
David Hoopes February 15, 2019 at 12:16 am
My buddy and I climbed and skied San Jacinto from the Tram on Sat, 9 Feb 2019. Here is some video showing the conditions. Plenty of coverage but as stated by others, somewhat dense snow.

https://youtu.be/v1zXJMw0Gu4

The big storm this Valentine's day weekend may rain away a lot of snow early but then hopefully snow levels will fall and put coverage back on the mountain.

Has anyone climbed/skied San Gregornio lately. I've never done it. Recommended approach?