Birch Mountain Marathon — Page 2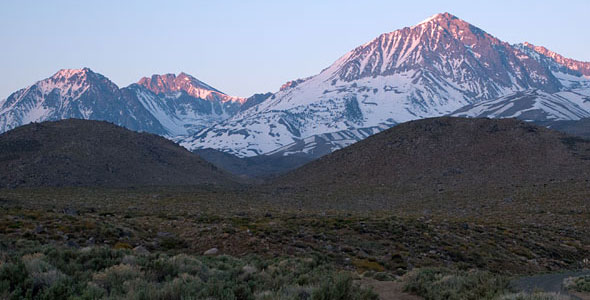 A Late Start
The invitation seemed innocent enough: Sierra Club Ski Mountaineers' Section group leader Alvin Walter sent me a note saying he wanted to ski Birch Mountain.
Would I like to join his party? You bet. I'd been contemplating staying home on my sofa for the weekend, but this was just the spark I needed to pack up my gear and head north.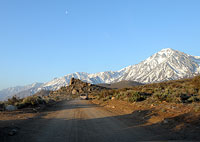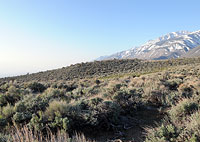 I'd heard about Birch Mountain's massive vertical. A chance to ski it was much too tempting to pass up.
I met Alvin on McMurray Meadows Road just outside Big Pine California the next morning at 6 a.m., where we waited to rendezvous with a few more group members.
Not without some trepidation, I watched as the sun peeked above the White Mountains to the east, setting Birch Mountain's southeast face glowing orange-pink above the shadows of Owens Valley.
Ordinarily by that time in the morning I'd be well up the mountain on a 7000-foot climb—especially when trying to ski south aspects. My preferred modus operandi would have been to hike up to the snowline the previous day, spend a bare-bones overnight, and start skinning up an hour or two before sunrise.
But, group travel demands flexibility. If the snow on Birch's southeast slopes grew too soft—as I feared—I planned to turn around by noon or so. If not, well, Birch's summit was certainly a tempting target, regardless of how late it got. We drove up the road a bit, stopping when we reached the parking area for the direct east approach.
Surprisingly, less than a mile of easy walking would put us on the nearest finger of snow.
From there, it looked like we'd be on skis the rest of the way up, with only a few short patches of grass to cross here and there upon the lower flanks. To a South Sierra skier like myself, that looked about as friendly an approach as a gilded chairlift, but others in our group wanted to continue to the Tinemaha Creek parking area to see if we could get even closer to the snow.
Ah, you SMS softies! Onward we drove, getting into a minor snafu when the road soon proved unfriendly to Honda Civics and other 2WD vehicles. Those with four wheel drive scouted ahead, discovering in time that Tinemaha Creek would ultimately put us even farther from the snow, so back we went to the Meadows—a very late start indeed.