Birch Mountain Marathon — Page 3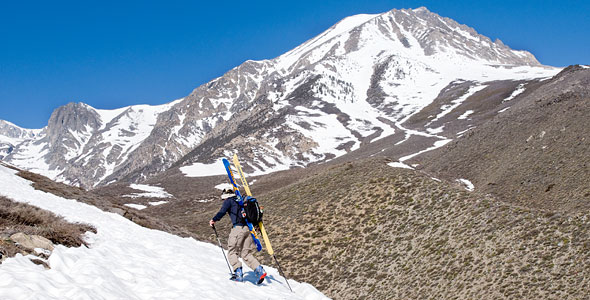 Fingers of Snow
Two dry, windy months have not been kind to the Southern Sierra snowpack. But we are nonetheless fortunate today to find snow only a short while after we start hiking.
Thanks to the gentle gullies running east-west along Birch Mountain's flank, we spot a few narrow fingers of snow on the mini-north aspects. The longest such finger is easily a mile in length, traversing alongside the edge of the Tinemaha drainage.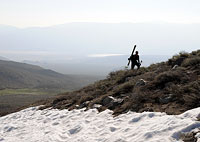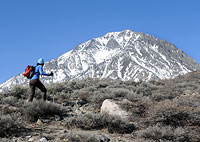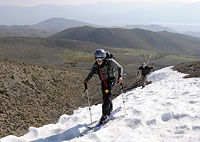 After a moment or two of conversation, we agree to make it our target.
The day is warm.
Thanks to our late start, it's already near 8 a.m. when we arrive at the lower end of the snow finger.
Some of us switch to skis and skins; others hike up the snow in ski boots.
Either way, we enjoy fine views of nearby Mount Tinemaha as we ascend this sun-cupped snowy ribbon.
The snow's surface at this low elevation—just below 7000'—is quite textured.
I find myself hoping we'll find smoother snow on the higher elevations.
If not, our late start may well prove beneficial—to give the sun ample time to heat and soften the surface.
Meanwhile, there is the business of climbing to attend to. We're all making good time in our ascent, but it's hard not to notice that we don't seem to be getting anywhere. Birch Mountain's massive scale is beginning to make itself known.
Our finger of snow goes on and on, while the mountain above gets no closer. The only reliable indicator of progress is to look back and eye the gradual elevation we're gaining above Owens Valley. In this regard, Birch Mountain is again reminiscent of Mount Shasta. Both mountains are indeed immense, and both lack prominent landmarks upon their lower flanks by which you can gauge your upward progress.