Birch Mountain Marathon — Page 4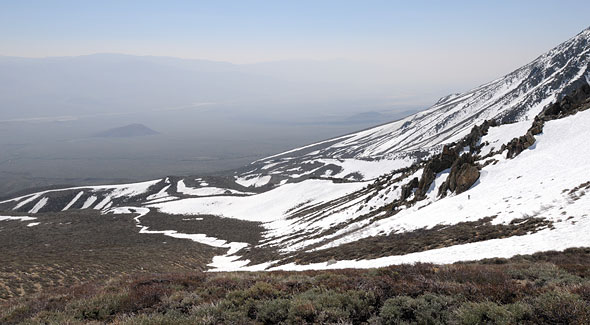 Big Mountain
Birch Mountain is the kind of place where you just better pray the wrong song doesn't get stuck in your head. Have we climbed a thousand feet already?
Two? The mountain—and the summit—still refuse to get any closer. Our group has scattered a bit as we each find our own path and pace up Birch's endless lower flank.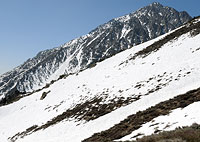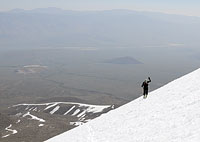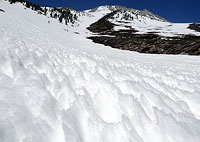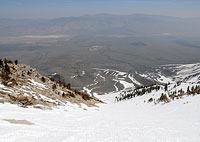 I pause to look for my companions.
We're all tiny specs now.
These tiny dots inching up the mountain around me provide the first true hint of the scale of our ambition.
It's beginning to dawn on me that, yes, we really are trying to climb over 7000 vertical feet in a day.
I haven't done that since—you guessed it—Mount Shasta.
And so my mental jukebox searches for inspirational tunes to play to help speed me upward...and the theme song from Disney's amusement park commercials gets stuck in my head.
I'd call it less than optimal climbing music.
Onward!
Truth be told, we are making gradual progress.
The snow fingers eventually merge into an expansive snowfield that leads upward to Birch Mountain's east couloirs—our chosen ascent route.
Problem is, the sun cups aren't abating.
In fact, we can now add 'shark fins' to the list of the snowpack's surface texture features. There is good and bad in this. The bad is obvious: sun cups (especially when frozen) can easily render snow unskiable. However, this surface texture, which results from uneven heating of the snow over time, also acts as a protective barrier for the deeper snow below.
Broadly speaking, the textured fins and cups absorb the sun's energy.
This allows the snowpack as a whole to stay cold—solid and stable. As I assess the phenomenon first-hand, I decide that I'm not concerned about wet slides today. That's good news, as we're certainly not on pace to make an early summit. In fact, I now think skiing Birch's southeast face in mid-to-late afternoon will offer the best possible ski descent, as it will allow the snow to soften as much as possible.
The doomsday scenario, of course, would be to have to ski snow like this when it refreezes. Just the thought of that makes me shudder. But, we still have lots of warm sunshine left in the day. I see no chance of that happening.