Birch Mountain Marathon — Page 5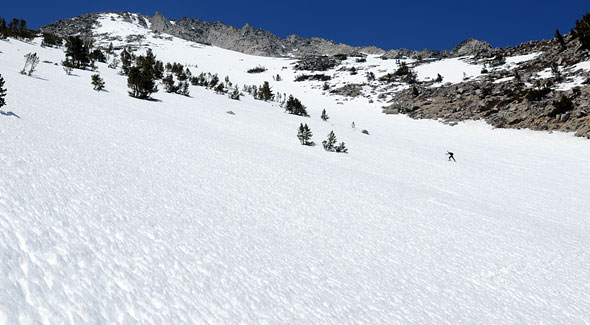 Up the East Face
Ascending the heavily-sun cupped snow proves devastating to both morale and body. It is a merciless war of attrition that cannot be won.
Skis must be stomped down with each step to try to set the skins in the soft snow. The shark fins must be punched through with each forward shuffle.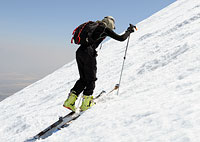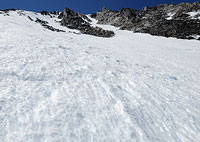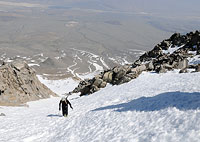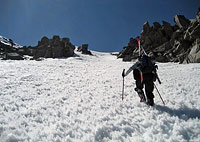 And still, the melting fins and cups collapse, causing the skis to slide back down the hill.
I'm gradually ascending at a lower and lower angle across the fall line, zig-zagging upward oh-so-slowly.
At least that damned song is out of my head, replaced with a robotic drone of breath, pole plant, step.
I'm shadowing Hristo, trying to match his pace, but gradually falling back.
He's on Dynafit bindings, and I'm immensely jealous of the extra efficiency they grant him.
Or maybe I'm just running out of gas.
Eventually, I can't stand the hell of trying to ascend on skis any longer.
I pop off my bindings, put my skis on my shoulders, and start booting up.
This is perhaps marginally better, but it remains far from easy.
I need a break.
I find a nice sunny rock to sit upon. First, I tend to some developing blisters on my feet.
Then, I eat a quick snack, trying to refuel. How much higher is the summit? I resort to naked deception, lying to myself that we're less than two thousand vertical feet away. Even that number is hardly encouraging. As Hristo and I begin climbing up the East Couloir, the snow remains lousy, but it's at least firm enough to kick steps without sinking too deep.
I've long since abandoned any idea of finding good skiing on Birch Mountain today. The season looks to be over here in the South Sierra. Two snowless months have killed the snowpack. The best I can hope for is that this mess of melting sun cups and fins will ski like thick, manky powder. I'm in this for the summit alone, now.
Save for Hristo and me, the others in our group have all fallen well back. We can't see them anymore. I figure they've turned back, which is probably the smart thing to do—probably what I ought to do. Instead, I take yet another deep breath, put my head down, and press onward. I'm not done yet.