Birch Mountain Marathon — Page 6
Summit Snowfield
Birch Mountain's East Couloir extends in excess of a thousand vertical feet. When I reach the top of it, I am begging aloud for the summit to be near.
Instead, I see a massive upper snowfield at least another thousand vertical feet high. The snow here looks smooth and inviting—but who would ever climb upwards of a vertical mile for a few good turns?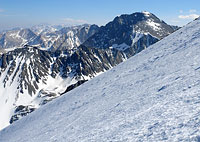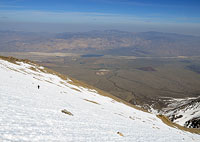 At least the views are dazzling.
Split Mountain, one of California's fourteeners, is on prominent display to the south.
Nearby Mount Tinemaha's north face shows a number of intriguing couloirs that might just fill in with enough snowfall.
Hristo and I cross a hundred yard patch or so of bare talus—a tedious business on wrecked legs and ski boots.
Once we cross to the summit snowfield, we switch back to skis and skins and resume climbing.
If there is a vulnerability in the heart of every mountaineer, now is when it manifests.
We have been climbing continuously for over six hours now—six hours and more than six thousand vertical feet.
Our investment in terms of energy, effort, and pain is immense.
And the summit is close now: just another hour to go.
Could you turn around here if you had to?
For myself, I know the answer is yes.
I once turned back near 14,000' on Mount Williamson when the weather abruptly changed for the worse.
It was an agonizing decision, given the effort it took to get there, but I count turning back that day among my greatest mountaineering achievements. That said, I also spent the next year gnashing my teeth every night until I returned and finally summited.
Today there will be no such dilemma. I'm keeping an eye on the shadows in Owens Valley below. Though I don't have a watch, the sun still seems high enough overhead. Is it near two o'clock? I guess it's around three. So long as the snow stays soft below, we'll be skiing almost all the way back to the car. Conditions won't be great, but baring any unpleasant surprises the skiing will be manageable.
So breathe and exhale, kick those stony legs into gear, find the right song, dig deep into whatever force will keep you going. The summit, at long last, is near. I can hear it calling. And if the day has indeed grown alarmingly late, that is a message I don't want to hear right now.